Letter from IFCA Missionary in Philippines.
Dear Brothers and Sisters in IFCA International,
You are aware of the devastation in The Philippines in the aftermath of the terrible typhoon / hurricane that hit them earlier this week. We have been receiving inquiries about how IFCA might become involved.
Pastor Eddie Gerodias is well known to a number of IFCA men. He is the founding pastor of Bible Baptist Church in San Carlos City on Negros Island, The Philippines. He has been serving faithfully there for nearly 35 years and has planted over 30 churches. He has an extensive network of over 100 Filipino pastors who are already carrying out relief, compassion and Gospel ministry on the hard hit island of Cebu (the next island over from Negros Island). With any funds that Pastor Eddie's network receives, they will reach out to Cebu with the love of Christ.
Our IFCA brothers have had great success wiring tens of thousands of dollars in the past for previous projects with Pastor Eddie. So we have a trusted infrastructure in place to efficiently assist the IFCA in relief efforts. Pastor Eddie and his leading men will be the entrusted to head up The Philippines Typhoon Relief efforts.
We make this appeal to the IFCA constituency requesting emergency relief funds for The Philippines to be channeled through the IFCA Benevolence Committee to Pastor Eddie Gerodias and his network of pastors. We will follow all normal protocols for accountability as in past appeals: the IFCA Benevolence Committee will oversee the disbursement of funds and trusted local pastors will provide accountability. And later, photos and eyewitness reports will be given to the IFCA Benevolence Committee to ensure honesty and competence.
Please make your checks out to IFCA International and enclose a note: "for The Philippines Typhoon Relief Fund." Then send your gift to: IFCA International, P.O. Box 810, Grandville, MI 49468
Thank you and please pray for God's glory to be demonstrated in the midst of devastation in The Philippines.
IFCA International Benevolence Committee
Grandville, Michigan
****************************************************
Sent: Monday, November 11, 2013 3:53 PM Subject: Help Needed Yesterday, I woke up very early in the morning monitoring what is going on. The raw footages were heart breaking and as more towns and places were visited, more devastations were uncovered, I was not able to control my self, the emotion was just too much to handle. Now we know that some of the victims are pastors and their families, Christians I am sure are on the list of missing and dead. Indeed the catastrophic storm was no respector of persons. Though I am one of those who thank God that our family is safe and we have no casualties in our city but I am just grieving and saddened for those who suffered. I just feel guilty and felt helpless asking myself that I should be doing more than just praying. People are in dire need of help.
The basic necessity for survival like food, water and medicine. Please help us pray that we can be a part in bearing the burden of the Filipino people. They need our help.
Bible Baptist Church in San Carlos City
Negros Island, The Philippines
Sent from:
IFCA International
Home Office PO Box 810 Grandville, MI 49468-0810 616-531-1840 www.ifca.org
Letter from Pastor in Cameroon: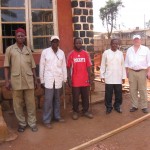 Dear brother, hope all is well, thank God that he is blessing your health, your devotional thoughts are a big blessing for me.how is the ministry and family.
The church where I serve is striving to grow in faith and faithfulness. For the last two weeks we have focused on small groups ministry, during church worship in order to reach to more than 700 worshipers, This has been great, We wish to fish out the inactive members in church intentionally.
My wife and I are praying to be admitted in Dallas Theological seminary for a D-min.
We have also targeted an un reached people's group called the Bamilekes, a French business group in Cameroon, very mobile, very dominant , a strong sense of unity, very rich, their culture practices skull worship. This group of people do not have any indigenous bible believing church.
So we want to use the few indigenes in our church, we will plant an indigenous Bamilekes church in a place in Bamenda next year where they are so many of them. As we plant, disciple we shall target the whole land to invade the land with bible believing churches.
We are planning also to start our sports competition in November, we have eight teams from the different communities that make up our church and our mission areas. Most bike riders in Bamenda are not good boys in Town, so we wish to involve all of them in the sports. We are praying to have a consignment of bibles where we can lead them to Christ and follow them up. Could we have support from there.
We shall also award a trophy, organized an evangelistic dinner in a Neutral place where we shall invite all these boys, in a neutral place, share testimony, present an evangelistic film, challenge them to give their lives to Christ then award the trophy, this will be at the ending ceremony.
During this time we will also do community work and project the film the Hope in this communities leading many to Christ.it may seam a heavy program but we wish to end our year in stormy way to recruit many to the kingdom.
Pray for good planning, availability of funds, availability of Bibles, availability of workers,let there be a mighty harvest of souls.
Thanks for always being there to pray for us.
Regards to your family.
Joel