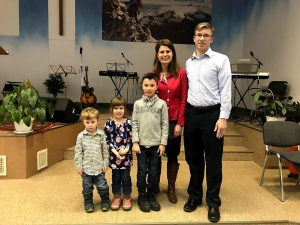 Kevin, Yulia, Daniel and Valeria  – Island of Sakhalin.
** Just Life…… For all the cross cultural challenges that missionaries face, in the end they are exactly like you in many ways. For example, a Sunday morning like today when our kids are fighting, we are late getting out the door and our car battery chooses to breathe its last. Sound familiar? There is a word for this: Life. So when you pray for us, remember that we are a lot like you. What are your needs? Ours in many ways are exactly the same. In the end, we all need to rest more in God's grace every day. Thanks for praying!
UPDATE: DECEMBER 2020
Changes in our ministry school
In our previous letter we mentioned how God has used COVID19 over here. One of the positive changes has been evaluation
and adjustments to our methods of training men and their
wives for ministry. So what changes have we made and why did
we make these changes?
• We've gotten smaller. We found that some men enrolled
in the course did not have a great desire to be in the course
but came out of obligation. Others wanted to come but
clearly weren't ready. We've reduced to those who have
the right desire, readiness and giftedness for ministry leadership. Our current group includes 5 men.
• We've shrunk the length of the course. Previously, the
course took 4-6 years, with four modules per year. We will
now offer 12 classes over two years. We did this is out of a
sense of urgency to reach the Island.
• We changed the way we teach the course. The content
has changed little, but instead of offering only one-week
modules we have more variety. We will offer some classes
in a one class per week over 12 weeks format, others in an
intensive 3-day training and others in the traditional oneweek module. These different formats allow us to interact
with students differently, offer different assignments and
make it easier to offer six classes per year instead of 4.
• We are creating intentional ministry opportunities. We
want for our students to serve in local and distant missions
trips, to hone their preaching skills, to learn pastoral care
and how to serve others in "hands on" ways.
• We are working with couples. This culture puts the strongest focus on training men, but we know a husband and wife
must both be equipped for ministry. We are hosting dinners with ministry couples and discussing family ministry
topics. Yulia is working with other ladies to mentor wives.
We are designing a new, classroom-style, Biblical training
course in this church that will be available to men and
women and urging wives of these men to attend.
• We will be working toward a clear path for future ministry
for these students. Pastor Alexey and I will be helping
these men and their wives engage in a direction and path of
ministry during and after this course that utilizes their giftedness to meet the needs of this region.
• We hope to add a second group next fall and are considering now who we would like to invite.
Pray for these men and women as we work to prepare them for
the ministry where God is calling them. So far, we are very happy with our group, excited about the process but even more
excited about what God will do through these men and women
on Sakhalin.
Family and Ministry Updates
We have snow! Once it arrives it doesn't leave for about 4
months as the ground stays covered by snow and temps stay
below freezing. For our kids this means that classes at their ski
schools finally move to the snow—a welcome change for all.
In Russia nearly every kid between 2 and 6 goes to "Sadik"
which is something like daycare, preschool and kindergarten
combined into one. Since we are part of the culture here, Phil
and Val are enrolled. Their school was closed for renovation for
a while but in November they headed back to their classes. It
was a bit of a bumpy transition, but both are having fun with
their friends again.
We are still waiting for word on Kevin's residency application. It may take another month or three before we know the
decision for sure so please continue praying. If it is declined it
means we will likely need to leave the country. While we hope
and think that residency will be granted, we are glad that God is
in control and trust him to decide what is best in this situation.
Yulia is continuing her ladies Bible study. She planned to
take a break in December but her ladies would not let her—
they wanted to continue. She's thankful for their response to
studying the word of God.

Prayer
Praise God for good progress in the classes Kevin is teaching in
our Bible School and the Bible Study that Yulia is leading among
ladies.
Pray for God's work in the lives of those attending.
Pray for Kevin's residency application. We could hear any day
now, but know it will probably be more weeks or months before
we hear back. We desire God's will!
Pray for our Russian church and the ongoing challenges of leadership.
 Keep Praying especially for Pastor Alexey as he leads.
Pray also for humility among leaders.
Keep Praying for the expat families and our ministry to them.
We are thankful for two other families that we work with in this
area as we seek to creatively reach those who have been sheltering for months now.
THANK YOU FOR YOUR CONTINUED PRAYERS AS WE CONTINUE ON THIS JOURNEY THAT GOD HAS SET US ON!  GOD IS AT WORK!
Kevin and Yulia Brubaker in Sakhalin
kbrubaker@biblicalministries.org July 2020
Y