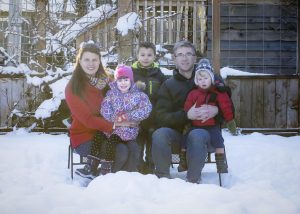 Kevin, Yulia, Daniel and Valeria  – Island of Sakhalin.
** Just Life…… For all the cross cultural challenges that missionaries face, in the end they are exactly like you in many ways. For example, a Sunday morning like today when our kids are fighting, we are late getting out the door and our car battery chooses to breathe its last. Sound familiar? There is a word for this: Life. So when you pray for us, remember that we are a lot like you. What are your needs? Ours in many ways are exactly the same. In the end, we all need to rest more in God's grace every day. Thanks for praying!
UPDATE: FEBRUARY 2019
One part of the strategy that we utilize in our quest to develop
new churches on Sakhalin is a training program for men who
desire to be pastors and leaders in their churches. It is a 16-
module program called the "Antioch Initiative," developed by
Slavic Gospel Association. You may remember that we saw two
men graduate from this program in November. In January we
began the second round of courses.
As we began the courses for a second time, we asked all men to
submit applications and undergo interviews. We enjoyed the
process of engaging with the men and learning more about
their plans, dreams and hopes for ministry.
Last week it was my privilege to teach a class in Hermeneutics,
which is the science and art of Biblical interpretation. The class
was well attended and the students were quite engaged. In
Russian churches many different men preach, so we look forward to seeing the fruit of this class as we listen to these men
preach and teach in different settings.
OTHER MINISTRY ACTIVITES: January was a busy month for us with lots of preaching opportunities and a class as well. Yulia was busy interpreting and
helping with ladies ministry and with her mentoring relationships.
We are hoping February provides more time to focus on language study for Kevin and ladies development with Yulia. Of
course, this is Russia and plans can change quickly.
Meetings with pastors are also planned for February as we consider the best way to mentor the men in the classes and develop their ministry skills, as well as the best strategy for church
planting.
We are excited that our English Service group is considering a
Paul Tripp marriage seminar in coming months. We are also
thrilled that our English service group has a desire to be involved in encouragement and ministry to Russian churches on
the Island. We are planning some activities in that area as well.
FAMILY: Daniel (age 8) and Valerie (almost 5) are really enjoying their ski
classes. They are now skiing down "mid slope" of the mountain.
Of course, Daniel is with a more advanced group than Valerie
and doing well. Valerie really loves skiing and expressed after
her practice last night that she can't wait to do it again. Our
family also likes to ice skate together at our local park. Philip
(age 3) isn't quite there yet, but Valerie and Daniel skate quite
well. All three are making friends at school and enjoying Russian and English Sunday school.
Yulia's job continues to go well and she continues to make new
friends among coworkers, parents of kids from school and practice and other places, as Yulia often does.
Kevin is still running though in the winter it is mostly indoor at
the local gym, but he does run outside at times. He is so thankful that we found a way to watch the NFL here in Russia—it was
a nice break from Russian reality at times. Yulia and Kevin are
hoping to take ski lessons soon.
PRAYER:
Praise: That our latest class on Hermeneutics went well and
that we have a good group of students. Pray that the students
will make good use of what they have learned.
Prayer: For our next class on March 18 on Theology Proper led
by our friend Jim and his friend Alex from Idaho. Pray for their
visas and travel details as the prepare to leave.
Continue to Pray: for the process of developing a church
planting strategy among the churches we work with.
Continue to Pray: for Kevin's language study. We are thankful
for progress. Pray for a really focused March-April to solidify
the next step of language development.
Pray for: plans for the English service, including a marriage seminar and some visits to local Russian churches for ministry. Pray also:for the opportunity to develop men who can assist with preaching and teaching in these services.
Pray for: opportunities to share Christ with friends in many
different areas of our lives, and for wisdom in mentoring relationships Yulia and Kevin have with believers.
Thank you for your continued prayers as we continue on this journey,
Kevin and Yulia.
Kevin and Yulia Brubaker in Far East Russia kbrubaker@biblicalministries.org