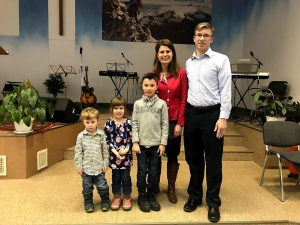 Kevin, Yulia, Daniel and Valeria  – Island of Sakhalin.
** Just Life…… For all the cross cultural challenges that missionaries face, in the end they are exactly like you in many ways. For example, a Sunday morning like today when our kids are fighting, we are late getting out the door and our car battery chooses to breathe its last. Sound familiar? There is a word for this: Life. So when you pray for us, remember that we are a lot like you. What are your needs? Ours in many ways are exactly the same. In the end, we all need to rest more in God's grace every day. Thanks for praying!
UPDATE: SEPTEMBER 2019
Prayer team,
Thanks for lifting up our needs and the needs of those we serve with.
GOODBYE AND HELLO:
Saying "goodbye" – missionaries are almost as good at that as
they are at saying "Hello." In our situation, saying goodbye and
"Hello" becomes even more commonplace because a part of
our ministry involves the English service at our church which is
composed largely of expats (foreign workers) on Sakhalin.
The oil industry brings engineers, managers and oil industry
executives to Sakhalin from around the world. Many come
from North America, but others come from places like The
Netherlands, Indonesia, Vietnam and Malaysia, to name a few.
Most come with their families who live in special neighborhoods
designed for expats near the city. Most are here on 2-3 year
contracts, thus we have a constant turnover.
Spurred on by a few expat families in the church, our Russian
church developed an English language service and we began
meeting regularly one year ago. Already, one family who was
part of our leadership team has left and another will leave in a
couple weeks. It is so hard to say goodbye to these dear families we've grown to love. We will also miss their numerous contributions in leadership and service.
At the same time, God sent us a new family with giftedness in
music and children's ministry. They dove in and became involved immediately. Another family who has been here a few
months decided to move from sporadic attendance to committed involvement. And still another who has been here a year
has stepped into a leadership role. To them we say "hello" and
"thank you."
It is our hope that the expats who are here will understand God
has placed them here for a reason and will reach others around
them. It is also our hope that they will leave here equipped and
encouraged so that they may make an impact for Christ wherever he leads next. We are confident that this ministry is part of
God's great plan for this and other parts of the world, and we
look forward to seeing what he does through those to whom we
say "hello" and also through those to whom we say "goodbye"
UPDATES:
Pre-Marriage Counseling: One fun
and challenging endeavor recently
has been pre-marriage counseling for
a young Russian couple. They will
marry this October. Both of them
love the Lord and want to serve him
with their lives. We are grateful to
have an opportunity to be involved in
their lives in this way and pray that
we will have good cultural understanding and lead them to application of cross-cultural biblical truth.
School: Daniel is now officially a Russian 2nd grader. Thankfully he has his same teacher and many of the same 29 classmates as last year. So far he is
doing really well and has even been placed at the back of the
class room where his teacher places the kids who behave best.
He is also wrapping up 2nd grade in his online American program and will soon begin 3rd grade. Valerie is still in Russian
preschool (they don't have kindergarten here) but is starting
American kindergarten with our online homeschool program.
She can't wait to learn to read! She will soon begin art classes a
couple times per week as well.
Yulia just wrapped up a summer of coordinating summer Sunday school for our church. The regular teachers take the summer off and she coordinated all of the volunteer teachers and
helpers. She was thankful to be able to enlist a wide variety of
people to help in this area and also thankful that the kids were
taught well and encouraged.
PRAISES AND PRAYERS:
Praise God that the new school year has started well for our
kids.
Praise God for new and newly-committed families in our English
service.
Pray for a young couple who will be married in October and for
us as we counsel them before marriage.
Pray for Pastor Alexey and his wife Natasha and for their family as they grieve the recent loss of Natasha's mother who is now
in heaven.
Pray for a restful month of vacation for Pastor Alexey and his wife.
Pray also that Alexey's house he is building will be completed before the cold winter begins.
Continue to Pray for friendships with our contacts so that we
may share Christ.
Pray especially for relationships with teachers as the new school year begins.
Continue to Pray for the process of renewing Kevin's residence
visa (this will take months). We are eligible to apply now even
though his visa does not expire for another 15 months.
THANK YOU FO YOUR CONTINUED PRAYERS AS WE CONTINUE ON THIS JOURNEY THAT GOD HAS SET US ON!  GOD IS AT WORK!
Kevin, Yulia, Daniel, Valerie, Philip
kbrubaker@biblicalministries.org