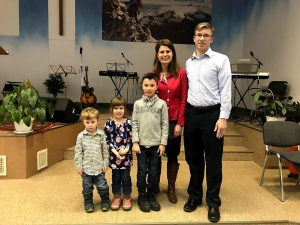 Kevin, Yulia, Daniel and Valeria  – Island of Sakhalin.
** Just Life…… For all the cross cultural challenges that missionaries face, in the end they are exactly like you in many ways. For example, a Sunday morning like today when our kids are fighting, we are late getting out the door and our car battery chooses to breathe its last. Sound familiar? There is a word for this: Life. So when you pray for us, remember that we are a lot like you. What are your needs? Ours in many ways are exactly the same. In the end, we all need to rest more in God's grace every day. Thanks for praying!
UPDATE: FEBRUARY 2020
Living In Russia
**One of the challenges of reaching Russia with the gospel is living
in Russia. Did you know that it is very difficult for a foreigner to
live in Russia for longer than three months? One way to do this is to obtain a work visa. However this type of visa can only be obtained through an existing employer who is authorized to obtain such visas. This can be difficult and the majority of such visas for Westerners go to those with tech-
nical expertise in areas such as the Oil Industry.
**Another way to live in Russia is to obtain residency. This allows one to live here indefinitely, similar to "green card" holders in the USA. This process starts with a "temporary residence visa" and is limited to set quotas each year. In order to be eligible you have to have lived in Russia for at least six months (likely through a work visa) and be granted the opportunity to apply via the quota system.

**Finally, there is my path. I am married to a Russian Citizen and am therefore automatically granted the opportunity to apply for temporary residency and eventually residency. The process of applying for these visas and submitting annual reports related to these visas is not easy either and involves standing in long lines early in the morning and submitting lots of
paper work in the country (you cannot apply from outside the
country and online applications and reporting do not exist).
**Does that mean we should give up when it comes to reaching Russia? By no means! It requires that we be creative, perhaps utilizing short term efforts more effectively. It requires that we seek and find those who can live and/or work in Russia. It requires that we pray fervently for the Lord to open doors to ministry. And most importantly, it requires that we put much
effort into encouraging and equipping those who can and must
live in Russia for the work that only they can do.
Family and Ministry Updates
Thank you to many of you who were praying with us through the process of submitting my annual visa report. It was a lot of work but, praise God, it is complete. Continue to pray with us as we now will work on my permanent residency application. My current temporary residence visa expires in December, and we hope to submit the new application in the next month. With a permanent residency status I will be able to stay here indefinitely. 
Our kids are enjoying all of the activities of winter. Ice Skating and skiing are two that they love the most, but they also have had fun building snow forts and tunneling through the snow. A couple of weeks ago we had a blizzard and enjoyed no school and no work and lots of snow together.
Yulia is staying busy balancing work, ministry and mom-
life. Her greatest love in ministry is encouraging other ladies in Christ. On any given Sunday we are some of the last people to leave the church as she busily connects with as many ladies as possible. Outside of Sundays she is meeting with ladies for prayer and mentoring ladies in the church. In her "non-church" environment she is also a good friend to many. I've commented several times that it seems like she knows everyone in the city
(200,000 people) because we are always running into someone
she knows.
I continue to stay busy preaching (3-4 times per month) and participating in leadership at Revival church in both the Russian and English ministries. Our work in our Bible Institute continues and right now we are enjoying a module on Romans taught by Pastor Mark from Faith Community Bible in Bremerton. Pastor Steve from Faith Community is also here preaching and teaching. We will have some highlights from their visit in our next prayer letter.
Prayer
Praise God for Pastors Mark and Steve who are visiting us right
now.
Pray that the module on Romans and the instruction on
Worship from Pastor Steve will be beneficial to the lives and
ministry of the students and churches.
Praise God that we were able to submit Kevin's annual report
to immigration and it was accepted.
Pray as we now begin to
work on Kevin's application for permanent residency.
Continue to pray for the leadership of our Expat Service as a
key couple have moved back to the States.
Praise God for thecouples who continue to be actively involved in leadership in this ministry.
Pray for our planning to visit the states this summer. In particu-
lar, pray that Yulia will have a good conversation with her boss
about the time off that is needed. She is started the process of
this conversation this week!
Pray for the two couples (Steve & Ruthie, Dan & Cheri) who
plan to be here this summer to carry on ministry in our absence.
Pray for their personal preparation, visas & travel details.
Pray for Pastor Alexey as he begins to share his vision for the
leadership and structure of Revival Church. Pray for stability and unity of this group.
THANK YOU FOR YOUR CONTINUED PRAYERS AS WE CONTINUE ON THIS JOURNEY THAT GOD HAS SET US ON!  GOD IS AT WORK!
Kevin, Yulia, Daniel, Valerie, Philip In Far East Russia
kbrubaker@biblicalministries.org