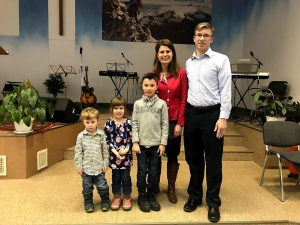 Kevin, Yulia, Daniel and Valeria  – Island of Sakhalin.
** Just Life…… For all the cross cultural challenges that missionaries face, in the end they are exactly like you in many ways. For example, a Sunday morning like today when our kids are fighting, we are late getting out the door and our car battery chooses to breathe its last. Sound familiar? There is a word for this: Life. So when you pray for us, remember that we are a lot like you. What are your needs? Ours in many ways are exactly the same. In the end, we all need to rest more in God's grace every day. Thanks for praying!
UPDATE:APRIL 2021
Peacemaking
Every week I do a WhatsApp video call with my parents and
catch up on life. We talk about regular life and also about what
we are both doing in ministry. A few weeks ago I said "I never
really thought counseling was my thing. I always thought someone else could do that." My Dad quickly quipped "That's what I
thought 50 years ago!"

Over the last few months I've been asked to take a leading
role in peacemaking between Russian leaders here. I didn't
volunteer to do this. In fact, I suggested someone else. With
each new phase of the process, I've tried to graciously bow out
and been pulled back in to continue the work. As I've stepped
into this role I've found myself to be less of a judge or an arbitrator and more of a counselor and advisor. At first, I thought I
was working with 3 men, but the work has grown in some ways
to include an entire leadership team of a dozen men impacting
not only one church but the entire ministry on the Island and all
of this in the context of the Russian Baptist Church.
This task is daunting for sure and I'm thankful that God has
my back. He's given me a great coach through this process
who has used the word of God to bring me wisdom, conviction
and balance as I navigate this path. He's also given me a wife
who is one of my wisest counselors, my most faithful listener
and constant encourager.

While the final outcome is still unknown from our viewpoint,
God knows the work he is doing and the final result. Already,
I've seen a key leader begin to examine his heart in light of
God's word and make changes. I've had deep conversations
with leaders in the church—most of whom are young—like I've
never had before. We've examined key areas of theology and
thought together about how the truth from God's word ought
to impact our lives and our church. These are all good things!

Will you continue to pray with us about this situation? Pray
that through this process the gospel will be magnified and God
will be glorified by the lives of these men and all who are in the
church. Pray that this will be a foundation for much fruit in future ministry. Pray that God will continue to give me wisdom,
humility, patience and endurance to finish this task.

Ministry and family news

This week Yulia's Mom, Luda, was taken to the hospital
with double pneumonia and later diagnosed COVID-19 positive. She is in stable condition and is now COVIDnegative. She will be home next week. Pray with us for full recovery.

Yulia continues to be busy in ministry to ladies. She wanted to end her
winter/spring Bible studies at the end of April, but the ladies said they wanted to go all summer. They also said they wanted to keep studying books of the Bible. Praise God for ladies who love to study God's word! Pray for Yulia as she ministers to these and other ladies and as she organizes Bible studies while we are gone this summer.

We are coming home! At least we think so. We hope to be
home for a couple months this summer and will try to make
contact with all of our supporting churches and with many of
you all. We also plan to spend time reconnecting with family
and resting from a busy season of ministry. Right now we are
finalizing our plans and will soon be reaching out to supporting
churches. We hope to be home from about June 1—August 15.

Our English service is growing. Ok, the growth is small and
slow but we'll take it. We are hearing of many who are coming
back to the Island and hope to be closer to full strength this Fall.
Still, we have 5 countries represented in our current services.

Our kids are in spring mode. That means the snow has
mostly melted, bikes and roller blades have been taken out of
the garage, the playground is fully accessible and they are no
longer wearing snow pants and heavy coats. Yay for Spring!
(But we already miss ski season).

Prayer:

*Pray for the peacemaking process among leaders here and
God's work in the lives of many.
*Praise God for the good response by ladies to Yulia's Bible Studies. *Pray that they would continue to grow as they study his
word.
*Pray for summer plans. There are lots of details we have to
work through as we plan for travel.
*Pray for Yulia's mom as she recovers from COVID. Pray also for
salvation Yulia's parents and brother who do not know Christ.
*Pray for our the expats here to continue to find their way back
to church as they are able.
THANK YOU FOR YOUR CONTINUED PRAYERS AS WE CONTINUE ON THIS JOURNEY THAT GOD HAS SET US ON!  GOD IS AT WORK!
Kevin and Yulia Brubaker in Sakhalin
kbrubaker@biblicalministries.org