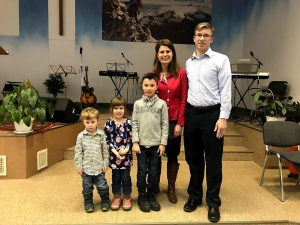 Kevin, Yulia, Daniel and Valeria  – Island of Sakhalin.
** Just Life…… For all the cross cultural challenges that missionaries face, in the end they are exactly like you in many ways. For example, a Sunday morning like today when our kids are fighting, we are late getting out the door and our car battery chooses to breathe its last. Sound familiar? There is a word for this: Life. So when you pray for us, remember that we are a lot like you. What are your needs? Ours in many ways are exactly the same. In the end, we all need to rest more in God's grace every day. Thanks for praying!
UPDATE: JULY 2020
Sharing Christ in Russia:

Part of making disciples must involve the start of the process:
leading people to Christ. But how does that work in a place like
Russia? I've learned a few things from living in Russian culture
and learning from others who know this culture much better
than I do.
First, most Russian people do not have a religious background. They might occasionally step foot into an Orthodox
temple or they might think God exists, but few have ever heard
the gospel or have any familiarity at all with the Bible. It simply
is not part of their culture—even 30 years after communism.
Second, many Russian people are not naturally curious.
Exploring new thoughts or ideas is an activity few engage in.
This is partly because this culture rarely rewards the explorer or
the innovator. Likewise few people are drawn to explore different religions.
Third, Russians will be cordial to strangers but also cautious
and sometimes skeptical. You don't find many door to door
salesmen here—it simply doesn't work. If you walk up to someone on the street and ask for directions, they will usually be
helpful (even if they don't' smile) but ask them about something
of a personal nature and you won't get very far.
So where does this leave us? It actually leaves us utilizing the
method of sharing Christ that is the most common to most cultures: relationships.
Russian people will be very loyal and very
trusting to those whom they consider to be friends. If you have
a good friend who is Russian you know that this is true. It is in
the bounds of true friendship where we believe that the message of the gospel will make the most impact in the lives of unbelievers. That is why, when it comes to evangelism, our primary focus is not "How many people did I share Christ with today?" but "who am I working to befriend and what friendships am I working to deepen?" not for the sake of friendship itself
but so that we may have opportunity to share what matters
most to us: our Savior.

PRAY for us as we seek to do this and also to lead those we
are mentoring to do the same. We are investing in relationships
with people like Boris, Valerie and Philip's ski coach, Natalia and
Svetlana, teachers in our kid's school, Olga, Daniel's teacher,
several of our neighbors, workers in nearby stores and others.
We work to build friendships and pray for opportunities and
boldness to share Christ.

Family and Ministry Updates
We are almost to the finish line with Kevin's residency application. We submitted the application this week and everything
was in order but we learned that Kevin needs a COVID-19 test
before the application will be accepted. If Kevin has a negative
result, we will submit the application on July 22 then will wait
about 3 months to find out if permanent (5-year) residency will
be granted.
The downtime due to COVID-19 has given us opportunity to
evaluate ministry. We are working on some significant structural adjustments to the way we train men and women for ministry. The content will not change much but we are looking at the way we teach and seeking to focus on our most serious students and engage wives in training as well.

Expat ministry has been limited since most families are restricted to their neighborhoods at the request of their employers. We are also looking at the possibility of more families moving back to their home countries and the possibility that the expat presence may be reduced in coming months. We are very thankful for our core leadership team and their commitment to serving the Lord. Pray with us about how to best minister to this group now and in the future.

As we mentioned last month Yulia is no longer working and
is considering what is next. We need to meet a certain level of
in-country employment for Kevin's residency requirements. In
the meantime, Yulia is really enjoying the freedom to meet with
ladies throughout the day and to spend more time with our
family.

Valerie and Philip will have most of the rest of the summer
off from their preschool. They and Daniel are all involved in
summer ski classes and Valerie and Daniel continue to finish
their online American school. We love having all the kids home
(for a little while)!

Our vacation this year will involve further exploration of our
Island—trips to the many beaches and camping with friends,
exploring the hills right outside our door and avoiding the resident brown bear population (haven't seen any yet!).

PRAYER:
Pray for the successful submission of Kevin's residency application and that he will eventually be granted residency.
Pray for wisdom in seeking the next employment opportunity
for Yulia and a way to also have more flexibility for ministry.
Praise God our kids completed another year of school and seem
to be doing well, making friends and are healthy.
Pray for the restructure we are working on in our training program for men and their wives.
Pray for two younger men who appear to be walking away from
their faith in our church. This is very heartbreaking.
Pray for expat families enduring a long time away from family,
away from church and facing tough decisions in the future.
Pray also for wisdom as we seek to minister to these families.

THANK YOU FOR YOUR CONTINUED PRAYERS AS WE CONTINUE ON THIS JOURNEY THAT GOD HAS SET US ON!  GOD IS AT WORK!
Kevin and Yulia Brubaker in Sakhalin
kbrubaker@biblicalministries.org July 2020
Y