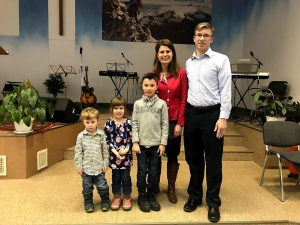 Kevin, Yulia, Daniel and Valeria  – Island of Sakhalin.
** Just Life…… For all the cross cultural challenges that missionaries face, in the end they are exactly like you in many ways. For example, a Sunday morning like today when our kids are fighting, we are late getting out the door and our car battery chooses to breathe its last. Sound familiar? There is a word for this: Life. So when you pray for us, remember that we are a lot like you. What are your needs? Ours in many ways are exactly the same. In the end, we all need to rest more in God's grace every day. Thanks for praying!
UPDATE: JULY 2019
Our kids, our team
When it comes to ministry, our kids are not just "along for the ride." They are all bilingual and have embraced our efforts to live life like a Russian family. Each are a vital part of our minis-try team and we remind them of that often. Here are a few examples:
We had a Day Camp at church recently and Daniel had a lot of fun being involved. A couple of unchurched kids were at the camp and have started attending church. Daniel has made friends with them and even saw them the other day when we were walking through the city and greeted them by name. He's really social like his momma 🙂 so he's a natural at making new friends and he has a lot of them.
One of the people that is on our "contacts" list is a man named Boris. He is Valerie's ski coach and also a bit of a curmudgeon. Ski practice here is year-round—they practice on roller blades in the summer. Valerie has a love-hate relationship with the roller blade portion of her practice. Boris is "old school" and was a little frustrated with our tearful girl (she's only 5, after all!). We encouraged (ok, bribed) her to stay with it. We also talked about how we need to show Jesus' love to Boris. Since then Valerie has been a happy girl and Boris can't stop comple-menting her. It has also opened up more conversation with And Philip? After every practice, Philip is busy picking up Boris' practice cones, which Boris loves.
Our kids are active in Sunday School (Russian and English) and befriend lots of kids. They attend Russian school / preschool and not only make friends but give us opportunity to get to know teachers and parents. In our neighborhood they open up opportunity for conversation with local Babushkas and dog walkers.
They are the first-fruit of our ministry, our first disciples, and the most important people in our lives. Together, we are a team in Russia.
Summer Ministry
Our church here recently had a "Day Camp" for kids ages 6-12. About 40 kids came throughout the week and the staff an amaz-ing job of engaging with the kids and sharing God's word. Some from the English service helped fund the outreach and others helped with staffing, but this was mostly an effort of the Russian church. Daniel loved it so much he cried when it was over.
The Sunday after Day camp ended, we had 5 unchurched kids who attended the day camp come to Sunday School. One of the Directors of the Day Camp immediately began to ask "What do we do now? Should we be doing more for kids on a regular basis?" Please pray that Revival church would have wisdom and ambition to continue to reach out to kids in the community.
JULY 17TH Prayer Requests:
Thanks for lifting this ministry up before the Lord!
Praise God for a good week of ministry last week.  We especially enjoyed fellowship with some church families at a nearby lake. 
Continue to pray for unity in the church, starting at leadership levels and working out to all the church.   
Pray for Pastor Alexey as he leads – for wisdom, humility and God's grace.  
Pray for our nephew, Nate, and friend Isaac as they journey out to visit us for three weeks.  They depart on Sunday.  They are both Corban students and this visit is part of a class assignment.  We look forward to showing them what we do and throwing them some opportunities as well. 
Pray for Yulia as she continues to reach out to ladies who have been drifting a bit in their spiritual walk.  She had a great meeting with one lady yesterday and will meet with another this evening.  A third is still resisting her efforts to reach out.  
Pray for us as we begin to "jump through hoops" in various areas to secure documents needed as we prepare to apply for Kevin's longer-term (5-year) residency.  Pray for clarity and for kind, helpful officials in various offices.  
Pray for Valerie as she had a rough practice on roller blades two days ago (lots of tears).  Praise God her coach is a little more understanding now (though dad had to bite his tongue a couple times!).  Pray for us as we continue to build relationships with her coach and others we see regularly.  
Praise God our kids are, in general, doing very well and are happy.  
Pray as we contemplate the best approach for fall and winter ministry in our mid-week Bible studies.  We have an exciting opportunity to have a greater emphasis on small groups but this is a change, so we must approach it carefully with wisdom.  
Thanks for praying for us and for Sakhalin!  God is at work!
Kevin, Yulia, Daniel, Valerie, Philip
Thank you for your continued prayers as we continue on this journey,
Kevin and Yulia Brubaker in Far East Russia kbrubaker@biblicalministries.org
y