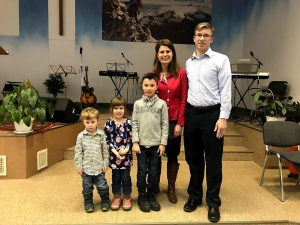 Kevin, Yulia, Daniel and Valeria  – Island of Sakhalin.
** Just Life…… For all the cross cultural challenges that missionaries face, in the end they are exactly like you in many ways. For example, a Sunday morning like today when our kids are fighting, we are late getting out the door and our car battery chooses to breathe its last. Sound familiar? There is a word for this: Life. So when you pray for us, remember that we are a lot like you. What are your needs? Ours in many ways are exactly the same. In the end, we all need to rest more in God's grace every day. Thanks for praying!
UPDATE: APRIL 2019
A Growing Group
This year, we "rebooted" our Antioch Initiative training pro-gram, adding an application process, assigning mentors and creating new ministry requirements while keeping the same core classes and curriculum. We've had two classes this year and the reboot has produced good results.
In March Jim and Alex came from Meridian First Baptist Church in Idaho to teach our second class: Theology Proper. Both men also preached, taught bible studies and had much interaction with the believers here.
We were pleased that 12 of our 13 students were able to attend the class and we had a few who audited it as well. Jim provided excellent, clear teaching and Alex did a wonderful job of inter-preting (Alex is originally from Ukraine). Also, Meridian First Baptist provided 20 MacArthur Study Bibles for students and pastors on the Island along with Theology books written by a Russian author for each of the students.
As part of their homework assignment, our students will be preaching 10-minute sermons on one of the attributes of God and submitting a report from the book they are reading. Please continue to pray that these men will continue to grow and that God will give them and their wives a hunger to not only learn but to serve.
Cultivating Contacts
Our main purpose on Sakhalin is to help the Russian church start new churches by training and utilizing Russian pastors. That said, it is always our duty to reach others for Christ. Be-cause of this we are always seeking to make new contacts and create friendships so that we can share Christ.
Who are our contacts? Here are a few examples of the contacts we are cultivating: There is Alexandar—he lives in the building next to us. We met when I (Kevin) dented his car. He was very nice and I think he liked how honest we were with him. There is Svetlana, Evgeniya, Olga and Natalia. These ladies are the teachers in our kids' school. I have fun interacting with them each day as I drop kids off and pick them up. They don't know any English, but I enjoy the challenge of practicing my Russian. Anna, Yulia & Nastia, are parents who have kids in Valerie's ski class. Yulia enjoys talking with them every Tuesday and Thurs-day evening. Sergei is a nice older man that Yulia sees and greets nearly every day when she leaves for work. Olga is Dan-iel's teacher. Recently she was sick and missed several days at school. When she returned Daniel gave her a big hug and told her how much he missed her. Slava and Nastia are coworkers of Yulia. They share an office and she has interesting conversa-tions with them every day. Svetlana works at the milk store and loves to chat with Yulia. Boris and Sergei are Valerie and Daniel's ski coaches. An older lady (funny, we still don't know her name) has conversations with us and our kiddos a few times a week as we go to and from our apartment. And still, there are others. God has blessed us with many contacts. Will you pray with us that we will have opportunity to share with these dear people God has placed in our lives?
Prayer
Praise God a good class on Theology Proper and for good travel for Jim and Alex.
Praise God that we completed the necessary reports (for this year) related to Kevin's residency visa. Praise God also that he gave us helpful officials who have given us advice on our appli-cation for Kevin's 5-year residence visa.
Pray for upcoming Palm Sunday and Easter services in both the English and Russian Churches. As in the USA, many only attend church on Easter and Christmas.
Pray for our upcoming field conference in May with BMW along with a couple weeks of additional vacation time. We are tired and look forward to the opportunity to be refreshed.
Pray for God to bring to us or show us someone to send to the nearby city of Kholmsk. This is a port city of 35,000 without an established Baptist Union church.
Thank you for your continued prayers as we continue on this journey,
Kevin and Yulia.
Kevin and Yulia Brubaker in Far East Russia kbrubaker@biblicalministries.org