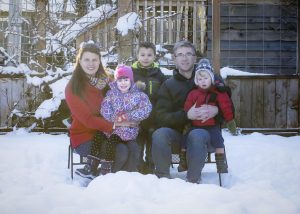 Kevin, Yulia, Daniel and Valeria  – Island of Sakhalin.
UPDATE: OCTOBER 2018
"Serve alongside us"
A few years ago, we met with the Chief Pastor of where we serve and he had some advice for us. "Serve alongside us," he said, "be one of us, work with us and you will be successful in ministry here." As we have moved to where we now serve up north, we've done our best to head these words. What does this mean?
First, it means we live like the people here. We live in an average apartment with three total rooms, a tiny kitchen and one bathroom. We walk to the stores and buy groceries like everyone else here. We own a reliable but not extravagant car. Yulia works because nearly all women work in this culture. Daniel goes to an average native  school instead of a nice international school. Valerie and Philip are going to native preschool / kindergarten like nearly all native kids do. Everyone but Kevin speaks the language pretty well and Kevin is working to bring his level of this language up a notch (or three). We wait in long lines. We camp and shashlik (look that one up!) We live like everyone else here does and for the most part we like our lives.
We are also serving the Lord in a cultural context. We are at the 'this' church every time they open up the doors. We are here to serve. We follow the lead of our  pastor, Alexey and are working to follow a common vision for the Island. A big part of this is the process of training men to be pastors and leaders, but we also help with ministries of the church: preaching, children's ministry and Wednesday night Bible Study and the English service.
Not that we are doing anything new. We follow the example and teaching of the Apostle Paul, knowing many others have come after him doing exactly what we are trying to do right now. It is the same thing that you are called to do in your culture. We are all a part of making disciples of all nations. We are all called to be salt and light. We do it in Here—you do it where you live. Thank you Benjamin for the great advice!
Ministry Activity
In October we will begin more regular meetings for the English service, meeting together with the native language  service on the first Sunday of the month and separately, in the afternoon, the rest of the Sundays of the month. We are preaching through Colossians and continue to be encouraged by new visitors to the service and regular ministry to around 30 kids each Sunday.
We will also welcome Pastor Jay from our sending church, Sunset Bible, later in the month. He will be in town for the graduation from the Bible Institute on November 4, representing the visiting teachers that participated in the Institute.
We will also get to meet our new Area Director and wife (Andy and Carla) for the first time during the time when Jay is in town.We look forward to introducing ourselves, our ministry and working toward a great relationship going forward.
November will bring our first class of the new Cycle of the Bible Institute – Hermeneutics and Exegesis—taught by Kevin. This is by far his favorite class and he is looking forward to it.  Later in November, a trip to Kamchatka is in the works for Kevin, Pastor Alexey and some others.
Family
Valerie and Philip began attending the local preschool / kindergarten in September. They are still adjusting, and there are tears nearly every morning but we are making progress.
School is still going well for Daniel. Also Daniel tried out for and was accepted into the local Olympic Development School for skiing. He has never skied but they don't seem to mind—they'll teach him how and it comes at a great price (free). He'll practice three times a week starting next week.
Yulia continues to juggle important tasks at her job with a multi-national supplier for oil production. She's learning a lot, feeling some stress at times but doing ok and loving ministry.
Prayer Requests…
Pray for Valerie and Philip as they continue to adjust to school. Valerie needs a buddy—pray that a girl from the group decides to be her best friend.
Pray for a busy couple of months ahead in ministry. We like to be busy, but we need wisdom to manage the responsibilities.
Pray for good visits with Pastor Jay and with Andy and Carla later this month.
Pray for the English service as we cycle up the services this month. There are a lot of volunteers playing important roles. Pray also for the connection between the localbelievers and the English believers—we are all part of one local church and we need to get to know and appreciate each other better.
Pray for those we are trying to reach. Yulia's family; our friends; kids Teachers; neighbors; coworkers.