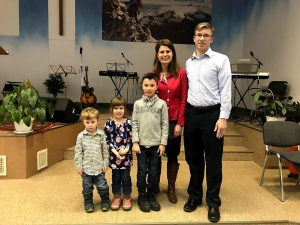 Kevin, Yulia, Daniel and Valeria  – Island of Sakhalin.
** Just Life…… For all the cross cultural challenges that missionaries face, in the end they are exactly like you in many ways. For example, a Sunday morning like today when our kids are fighting, we are late getting out the door and our car battery chooses to breathe its last. Sound familiar? There is a word for this: Life. So when you pray for us, remember that we are a lot like you. What are your needs? Ours in many ways are exactly the same. In the end, we all need to rest more in God's grace every day. Thanks for praying!
UPDATE: OCTOBER 2019
Things you may not know about Russia & Sakhalin
We are always learning new things about Russia's past present
and future. This month, we decided to share a few interesting,
random things. How many of these did you know already?
• Russia is very large, covering 6.6 million square miles. The
second largest country in the world, Canada, covers 3.8
million square miles. Russia covers two continents.
• Russia is the 9th most populated country in the world at
144 million people.
• 14 different countries border Russia.
• More than 60% of Russians consider themselves "Russian
Orthodox" and therefore "Christian" but only about 1%
truly know Christ as their Savior.
• The fastest growing religion in Russia is Islam. By 2030,
Russia is projected to be 15% Islam.
• Some estimate that 20% of the population of YuzhnoSakhalinsk are recent transplants from neighboring Islamic
countries.
• According to the Joshua Project, there are 117 unreached
people groups in Russia—only 7 countries have more.
• It is common to see North Korean workers on Sakhalin.
North Korea sends many laborers into Russia to help stabilize their own economy.
• The oil and gas industry brings workers from around the
world to Sakhalin. Fourteen different countries have been
represented in our English service.
• Sakhalin is Russia's largest Island at about 600 miles in
length and 100 miles wide at it widest point.
• Sakhalin has only been inhabited by non-native people
since the mid to late 1800's.
• Sakhalin seems arctic in temperature, but it is actually quite
far South of the Arctic circle. The Southern most tip is
equal in latitude to the Portland-metro area and the Northernmost tip to the middle of British Columbia.
Family & Ministry Updates:
**We enjoyed hosting our Area Director and wife from BMW in
early September. We really value Andy and Carla and we especially enjoy having another mind or two thinking about our ministry and offering insights and suggestions. BMW provides wonderful leadership and resources and we are grateful for their
partnership.
**Kevin engaged in a new opportunity in September and is now
volunteering twice a month to visit classes at a language school
where school aged kids are working to improve their English.
Kevin's role is to visit and have conversation with the kids (age
14-18). We are thankful for another opportunity to build contacts.
**Fall activities are in full swing in both the Russian and English
ministries. October will bring the annual Zhatva (Harvest) celebration and a wedding as well. We also look forward to a module on Acts for our students in November, which will be taught
by a Russian instructor.
**Language acquisition is moving along steadily for Kevin. He is
combining self-study at home with daily doses of engagement
with Russian culture. Interaction with the kids' daycare teachers, vendors at stores, people at the gym and church give him
opportunities to engage as well as learn. Russian isn't Spanish!
It is a remarkably difficult language to learn well, but Kevin is a
distance runner and has the same endurance mentality when it
comes to language learning.
Prayer:
Thank you for holding our family and Sakhalin in prayer.  Here are some praises and prayer requests for this week:
Praise God for a good wedding between Anton (Pastor Alexey's son) and Sasha last weekend.  God was glorified and several heard the gospel who don't normally hear it.
Praise God for a good visit by Kevin with local English students.  He had opportunity to talk about Thanksgiving, Easter and Christmas and what makes each significant.  
Pray for a youth (college/career) conference at Revival church this weekend.  A couple of guest speakers are coming in for the weekend and a full weekend of conference and training activities is planned.  Pray for the youth leaders and youth that this will be a time of growth.
Pray for the class on Acts that is coming in about three weeks for our students.  Pray that they will attend ready to learn and use what they have learned in ministry.
We praise God for his strength carrying us through a busy October and pray for a full month of ministry in November as well.  
Continue to pray….for progress with our contacts as we work to share Christ….for progress on Kevin's residency application…..and for God to work in the hearts of Russian couples, leading them to desire to serve him in ministry.  
Thanks for praying for Sakhalin!
Kevin, Yulia, Daniel, Valerie, Philip
THANK YOU FOR YOUR CONTINUED PRAYERS AS WE CONTINUE ON THIS JOURNEY THAT GOD HAS SET US ON!  GOD IS AT WORK!
Kevin, Yulia, Daniel, Valerie, Philip In Far East Russia
kbrubaker@biblicalministries.org