R O D G E R'S – – – R E F L E C T I O N S
February, March, April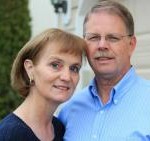 Bob and Katherine Rodgers – Executive Director of NICE
Dear Friends,
We trust all is well with you in this new year. The end of 2021 came with its challenges and blessings. Some of you are aware that we both came down with COVID-19 late October. Katherine breezed through it without a whole lot of issues, a slight fever and sore throat but was going full blast in a couple of days. As she says, "My energy bunny was ready to go." Bob on the other hand, struggled with breathing and headache, along with sore throat, aches, fever and fatigue. It laid him up for some time and it has taken months to get his energy back. It didn't help that he had a planned surgery on November 22nd which ended up being more extensive than
planned. As a result of these two physical challenges, the NICE Board of Directors told him to go on medical leave the month of December. He was issued a "no texts, emails or phones" order during his recovery. Praise the Lord for our former Directors who helped fill in, along with the Office Staff, Field Directors and the Board President. Bob is doing much better and we're thankful for all the prayers.
Due to the down time, we hit the ground running January 2nd catching up on emails, updating profiles for churches looking for pastors, and pastors looking for churches. So much has happened since the beginning of the year. January 9 saw Bob in the pulpit giving a NICE Report at a church in Oregon for the first time in many months. Following this we were able to do our annual planning retreat for a few
days on the coast. We determined that for 2022 there needed to be a change in our schedule for visiting Missionaries on the field and supporting churches. So, we are visiting two churches a month, leaving one week open in case a church needs us, and one weekend for the church we attend. We continue to thank the Lord for His grace and mercy as we travel. We were blessed to meet with some dear friends in Oregon who have prayed for us and supported us for some time. We then had the privilege of visiting Cristo Vive, one of our Hispanic works. Jésus and Maria Cordova (NICE Hispanic Field Director) have pastored this church for a number of years. Recently the Lord provided a wonderful blessing to the Cordova's and the church family. They were given a building by a church that needed to close. They have been faithfully praying for years that God would provide, but it came unexpectantly. The folks who left the church had updated it with new paint and left EVERYTHING for the Hispanic Ministry: grand piano, sound system, all kitchen utensils and dinnerware, appliances, women's ministry items, tables, chairs, etc. The pastor even left his library for Jésus. We were blessed to hear Pastor Jésus preach through an interpreter with a special hearing device. Indeed, God is good and provides for our needs.
The end of January found us meeting with the Board of Directors and their wives for our Annual Meeting in Hood River, Oregon. While Bob and the Board meet, Katherine hosts the wives for a time of fellowship, time in the Word and prayer. We always have dinner together and then Katherine takes the gals to a local place for lunch the next day. Bob always enjoys the time with the men in prayer and
fellowship, along with working through vision, reports, financial statements from the previous year, status update of Mission personnel, policies and the new budget. We had an added blessing this year in that we had the NICE Field Directors join us after the Board meetings for a retreat. With the loss of our Oregon Field Director, Jerry James who went to Glory just before Christmas, the Board approved bringing on Robert (and Bethany) Zink as Field Director. Meeting as five couples gave us the opportunity to enjoy prayer and fellowship together which we have not done for a number of years. Bob took us through the Vision, Purpose and Core Values of NICE as a reminder.
He also updated us on the Executive Director's Key Functions, Goals and Strategy. Most our time was spent looking at a refocus of the Field Directors, or as we now term it, the Director's Ministry Team as well as two primary objectives: ways we can better encourage the NICE Family and ways we can be more supportive of the Executive Director. It was a valuable time of input. Besides upcoming opportunities for ministry, we have been blessed with the resources to go on vacation with our oldest daughter and family to Mexico in early March. We hit the ground running when we get back joining a number of other mission organizations at Frontier School of the Bible in LaGrange, WY for a Church Planting and Revitalization Emphasis Week. Bob will be sharing about NICE in Chapel one day and there will be a couple Round Table discussions, as well as opportunities to share in a couple Church Planting classes.
February
3 Young Pastor's Forum/Ministry Wives Fellowship via Zoom
6 NICE Report at Olalla Bible Church, WA
12 Webster Memorial Service, Keyport Bible Church, WA
13 NICE Report at Keyport Bible Church, WA
Judkins Memorial Service, Silverdale, WA (afternoon)
15 IFCA Pastor's Luncheon, University Place, WA
17 Young Pastor's Forum/Ministry Wives Fellowship via Zoom
20 Preach at Wishkah Valley Community Church, WA
27 Hope Community Church, Olympia, WA
March
6 Cambridge Bible Church, ID
9 Lunch with Challey's, Castle Rock, CO
10 Young Pastor's Forum/Ministry Wives Fellowship via Zoom
11-18 Mexico Vacation
20 Creekside Bible Church, Castle Rock, CO
21-25 Frontier School of the Bible, LaGrange, WY
27 Three Forks Bible Church, MT
April
3 Kamiah Bible Church, ID
4-5 INW Regional, Loomis, WA
5 Visit to Ahtanum Pioneer Church for fall Regional
7 Young Pastor's Forum/Ministry Wives Fellowship via Zoom
10 Preach at Happy Camp Bible Church, CA
17 Hope Community Church, Olympia, WA
21 Young Pastor's Forum/Ministry Wives Fellowship via Zoom
24 Open
His servants for eternity,
Bob and Katherine