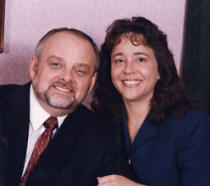 Mary and Jeanette, Director of Bible Centered  Reaching Children and Strengthening the Church Worldwide with BCM International
JAN/FEB 2019
A somewhat belated Happy New Year 2019.
We pray that your holiday season was as
blessed as ours. We were off the road for the
entire month of December, in itself a blessing,
then had three of our four of our adult children
home for much of Christmas week and enjoyed
teleconferencing with our fourth son in WY
along with other family members. While we
followed American custom in not having
Christmas dinner at midnight after Christmas
Eve celebrations, we did have a very Latin
American feast of lechon (roasted fresh ham
with the skin on marinated in Puerto Ricanstyle mojo criollo), yuca (cassava), platano
(plaintain), and fixings.
Just being together with family and celebrating Emmanuel, "God with us" was more than enough "reason for
the season".
Christmas is a time for a lot of celebration and
outreach on all our fields, especially to children.
In Brazil, Peru, Bolivia, and other points south
of the equator, this is school summer break, so
we are in full camp season. In Madagascar, Sri
Lanka, India, the Philippines, Latin America,
taking a Christmas meal as well as practical
gifts to children and adults living on the streets
or in desperate poverty is part of BCM ministry
outreaches as are Christmas programs that have
their own special cultural flavor. While an
entire album wouldn't cover this year's
Christmas activities, we did want to share just a
few Christmas activities from our BCM fields.
Marty remains off the road for another month,
but in March and April will be traveling in
Europe and Canada for BCM leadership
meetings, then Malaysia and the Philippines.
Please keep him in prayer for good health and
safety as well as profitable ministry on the field.
But we'd like to add a very special PRAISE and heartfelt THANK YOU. We have more than once
expressed with the apostle Paul the below verses because they remain so true: "I thank my God every time I
remember you. In all my prayers for all of you, I always pray with joy because of your partnership in the gospel
from the first day until now" (Philippians 1:3-5closeERROR: The IP key is no longer supported. Please use your access key, the testing key 'TEST'closeERROR: The IP key is no longer supported. Please use your access key, the testing key 'TEST'). In thirty-five years now of ministry in Bolivia, then throughout
Latin America, and now on five continents, you as our ministry partners have been with us and behind us and
beside us so faithfully.
We asked urgent prayer in our last update for BCM's $350,000 shortfall as a mission as
well as our own in-the-red personal support. Thanks to so many of your generous giving, we are now out of the
red in our personal account while BCM finished the year less than $30,000 short of budget, and thanks to some
other provisions, all actual costs were covered, PRAISE GOD!!
Please do continue to cover our 885-plus field missionaries in prayer, for their financial needs as well as
ministry, family, and health. Many—especially in Central Asia and India—live on only $100 financial support
for their entire family, and we in turn are always so amazed and blessed at their faithfulness in preaching the
Gospel and serving God's kingdom in difficult circumstances.
Thank you again for your partnership with us in
the Gospel and a blessed 2019 ahead,
Marty and Jeanette Windle
BCM International
HAPPY FOURTH OF JULY!!  That is, if you are American. For the rest, do have a wonderful summer Wednesday. We just returned from four days on the east coast, where we enjoyed a pre-4th brief holiday exploring Cape Cod, the original landing of the Pilgrims (two families of whom are in Jeanette's family tree), and the Newport mansions, the Gilded Age "summer cottages" for tycoons like the Vanderbilts, Rockefellers, etc., not to mention our first ever boiled lobster dinner.

As we celebrate our liberty in so many areas on this day, may we be reminded to pray for our brothers and sisters globally who do not have such freedoms, especially freedom to worship God or share their faith openly. BCM missionaries in Nepal are facing an August deadline for implementation of a new anti-conversion law that makes changing one's religion or facilitating such a change (i.e., evangelism) a criminal offense.

Asked how this will change their ministry, a unanimous and courageous answer was "It won't." That said, it is a tense time for our ministry leaders there as well as in Myanmar, India, and Sri Lanka, where similar laws have been enacted as well as Russia, where any evangelism/ministry outside government-sanctioned (Russian Orthodox) churches has also been criminalized.
Please pray for BCM Nepal director Robbin Vaidhya and his team as the August deadline looms as well as other BCM personnel and the body of Christ in general throughout these countries who are facing heightened persecution.

REACH DAY: Thank you all who participated in BCM's first Reach Day April 27th. Over $50,000USD was raised for various BCM projects, including summer camp scholarships in many different countries. With additional gifts since, over $18,000 has been raised for camp scholarships alone.

SUMMER CAMPS 2018:
Speaking of which, BCM summer camps are in full swing from across the United States and Canada to Brazil, Ukraine, Poland, Netherlands, Italy, Spain, Ireland, U.K., India, most of them maxed out. More than 25,000 children total will hear the gospel this summer at a BCM camp somewhere around the world. This summer alone, Camp Bethel in Spain and Cortland in New York State are celebrating 50 years of ministry while Camp Mullertown in Northern Ireland is celebrating their 40th anniversary. Here are some pics from just one of this summer's camps, Big Sky Bible Camp in Bigfork, MT.

 BCM Peru
Please pray for enough personnel and stamina over eight weeks of camp at each of our BCM camps.
Pray too that God's Holy Spirit will touch many young hearts during these weeks.

On a personal level, these last two months have been largely off the road, permitting for the catching up of many projects at BCM headquarters as well as at home. But the end of July will see Marty flying to Suriname to help with leadership and future vision of a Christian school there. Jeanette will be speaking at two conferences stateside the same week.
Please pray for God's guidance and wisdom as we prepared speaking/teaching materials for these events.

There is so much more to share of what God has been doing through BCM around the world in recent months as well as the needs and challenges our missionaries are facing. The latest issue of our BCM World magazine (of which Jeanette is editor) shares some of those stories in far more depth than we can here, so please do check out our BCM ministry family in North America, France, Bolivia, Guyana, Romania and more. May their stories be a reminder to pray for them and us.

Thank you again for participating with us in bringing freedom through the gospel of Jesus Christ. Jesus himself promises, "If the Son sets you free, you will be free indeed" (John 8:36closeERROR: The IP key is no longer supported. Please use your access key, the testing key 'TEST'closeERROR: The IP key is no longer supported. Please use your access key, the testing key 'TEST'). A wonderful reminder on this day of celebrating our liberty here in the United States of America.

Serving the King of Kings together with you,

Dr. Martin and Jeanette Windle
BCM International