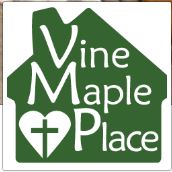 Family homelessness is a problem in our community. There are over 6,000 people staying in homeless shelters and transitional housing programs in King County, HALF of them are single parents and children. There are close to 3,000 very low income families in Maple Valley, Black Diamond, and Covington who are at risk of becoming homeless.
Our Mission is: We are a Christian Organization that breaks the cycle of homelessness by helping single parents and their children build lives of hope, stability, and greater self-sufficiency.
Together with you, we have brought hope and stability into the lives of families. We want to thank you for your ongoing support and prayers on behalf of the families at Vine Maple Place.
You have helped a mom and her 2 year old from living in her car to giving her the tools to secure a good job, and a place to live. You have helped a 7 year old boy and his mom get away from domestic violence. A male mentor is now partnered with this 7 year old and the changes in his behavior are like night and day.
A young mom of 2 was handed an eviction notice and faced many barriers that threatened their housing stability. A friend heard of Vine Maple Place and gave her the contact info. Not only was she able to stay in their home, but was also was given supporting services from financial literacy , employment counseling, and help in finding a better paying job. She now has hope, joy, and relief.
WE NOW ACCEPT DONATIONS: of clothing, shoes, bedding and towels IN ANY CONDITION! After presenting our clients with the opportunity to claim donated items, Vine Maple Place will take part in a program that allows non-profit organizations to receive income from donated items. This is a win-win situation for our donors, our clients, and Vine Maple Place, so we welcome your donations.
Thank you for praying for and partnering with us to help those in our community who need it the most!