Robert and Bethany Zink (Argentina)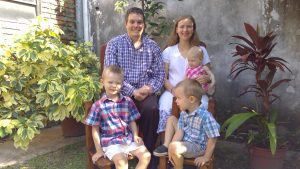 NEW UPDATE JUNE 2019 …….
On the Ministry Front:
June closes out with almost 4,000 miles of travel, but they were miles well spent. Those miles took us to points where much of our missions journey began: Southwick Bible Church in Idaho and BMW headquarters in Atlanta. In between included visits with some other dear partners and prayer warriors (First Baptist Churches of Moses Lake, WA and of Winterville, GA). We even managed to squeeze in a visit with a new church, Heritage Bible Church in the St. Louis area (where we also met some fellow BMW missionaries) thanks to some dear saints, Fred & Pat David. Squeezed in between those was some time with special people in our lives, the Harris family, who spent the day with us in a dinosaur park in Winston-Salem, NC (five hours in one park is no small commitment).
It was Springfield, MO though that occupied much of our time as we participated in the IFCA International 2019 convention. Out of this group comes some of ministry, partnering with us and sustaining us through some of the most intense times of life. While there, Robert was also able to present the Bella Vista Experience to those attending (see bottom left) and formulate some ideas with others about raising up missionaries in Argentina. It is hard to express how influential this group has been, both for ministry and for us personally. Therefore, it is hard to express how special this time was for us. We thank God for it.
PLEASE PRAY WITH US:
 Pray for the remainder of our time and travels and that God will be honored and glorified.
 Pray for God to incline hearts towards the Bella Vista Experience and raise up partners.
 Pray for Bob & Karen while they continue to minister in Argentina.
 Praise for ongoing provision, safety, and special times with people.
Thank you for joining us in this and pray for God's work here in Argentina. 
Soli Deo Gloria,
Prayer Team: get updated prayer requests by emailing us at:
Our Email: robertandbethanyzink@gmail.com
Our Blog: http://www.ministeringabroad.blogspot.com
By Mail: Evaristo Lopez 1050, 3450 Goya, Corrientes Argentina (letters/cards only)
By Phone or Whatsapp: 011.54.9.3777.505055 (Robert) 011.54.9.3777.505072 (Bethany)
To Receive Regular Prayer Updates: Send us an email to be included on the list: robertandbethanyzink@gmail.com
To Financially Support Us:
(1) Type in our names online at http://www.biblicalministries.org/support/give
(2) Send a check to Biblical Ministries Worldwide, 1595 Herrington Rd, Lawrenceville, GA 30043
(3) With your coffee purchase at http://www.coffeehelpingmissions.com
As always, thank you for praying!
As we endeavor to see people come to Christ and labor for God's glory, we are thankful that you have joined us in the vital ministry of prayer. Thank you so much for being with us in this way.
Robert & Bethany Zink  Biblical Ministries Worldwide