Robert and Bethany Zink (Argentina)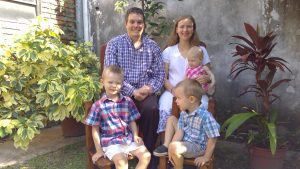 NEWS UPDATE DECEMBER 2020 …….
On the Ministry Front
Do we meet tomorrow or not? Like you, we've also had to answer that question depending on the government
restrictions. Thankfully, overall, restrictions have loosened, so we praise God! The loosening of restrictions
allows us to say farewell in person to our friends here in Goya, and also paves the way for us to leave in just a few
weeks. We are a bit overwhelmed by the enormity of that. Combined with the uncertainty of flights and
transportation to Buenos Aires (which we are still researching and noting that prices are pretty exorbitant)
there's a lot of emotions flowing through us right now. One thing is certain though: our Lord continues to be
gracious, merciful, and faithful. This whole process has been a testimony to that.
Ultimately, many decisions cannot be made until we arrive in the United States. However, we have made a couple
of decisions. Several months ago, we decided to focus on the northwest (Washington, Oregon, Idaho, & Nevada).
Therefore, we are making application with an organization Northwest Independent Church Extension as
associates. In a sentence, they plant churches and assist churches. For us, much of our spiritual support has come
from those associated with them, and our desire is to continue that relationship more formally as we rely on their
support, appreciate their wisdom, and desire their accountability.
The second decision is that we will continue being associated with BMW. We love the organization and have a
heart to see its ongoing success for God's glory. Our desire has been that regardless of the position we end up in,
we want to use our gifts to serve BMW and its missionaries. And so, we've met with leadership and determined
that we will continue ministering through them for our Lord to some degree, although it will depend on
availability with our next position, so we are praying through several opportunities that may exist there that will
use our gifts to meet the needs of BMW, its missionaries, and those who support them.
For you as financial and prayer supporters, this no doubt raises some questions. So, permit me to share some. At
this point, we are interviewing with churches and have some great options. However, other ongoing ministry will
have some expenses, and will require us to maintain some financial and prayer support even after our expected
transition (but certainly not at the same levels as now). So that is where things currently stand.
Although we desire to share more with you, we simply do not have the details. Instead, we trust the Lord for
ongoing guidance. It has been amazing to see him open up opportunities and narrow our focus these past
months. And as always, please feel free to ask questions. In the meantime, please continue to join us in prayer
over these exciting opportunities.
On the Home Front
The other night the thunder rumbled so loud it woke up the children.
The lightning never dulled, brightening up the sky continuously, which
meant the thunder kept rolling as well. Yet, it was refreshing and
peaceful. All of us spent some time outside simply enjoying the moment
. . . perhaps more because it was finally an opportunity to cool off in the
midst of the heat. Don't worry about us though: while the heat may
sometimes be intense, we are trying to eat enough passionfruit ice
cream to make up for it. The children are starting to grasp the concepts
of days, weeks, and months. So with a calendar on the wall, we've
circled special dates. Each day is another opportunity to mark off a day
complete. Their excitement when we arrived to Thanksgiving was quite
special. The next date is our return to the United States, which they are
incredibly excited for . . . but mostly because they know they have some
pretty neat Lego sets from Grandpa John waiting to be played with.
PRAISE AND PRAYERS
PRAISE for God's faithfulness
and goodness in the many
details of transition
PRAISE for the future
opportunities the Lord
continues to reveal
PRAISE for renewed freedom
to meet in small groups
PRAY for the next few weeks
of fixing up the house and
finalizing travel details
PRAY for our travel days;
Lord willing, we will be
traveling the night of the 18-
the night of the 20th. Yes,
three consecutive nights!
PRAY for our family as we
transition back to the
USA and say goodbye to
Argentina.
PRAY for wisdom and
direction as we seek a
pastoral position
PRAY for Bob and Karen as
they remain in Goya
PRAY for wisdom and
integrity for Argentina's
leaders during the COVID19 and economic crisis
PRAY for God to raise up
godly men in Goya to lead a
church
And lastly….Thank you for joining us on our journey here and your prayers for us and for God's work in Argentina.
As we endeavor to see people come to Christ and labor for God's glory, we are thankful that you have joined us in the vital ministry of prayer. Thank you so much for being with us in this way.
Robert & Bethany Zink  Biblical Ministries Worldwide
Soli Deo Gloria, Robert, Bethany and kids.
By Mail: Evaristo Lopez 1050 3450 Goya, Corrientes Argentina (letters/cards only)
By Phone or Whatsapp: 011.54.9.3777.505055 (Robert) 011.54.9.3777.505072 (Bethany)
By email: robertandbethanyzink@gmail.com
Our Blog: http://www.ministeringabroad.blogspot.com
To Receive Regular Prayer Updates: Send us an email to be included on the list
To Financially Support Us: (1) Type in our names online at
http://www.biblicalministries.org/support/give
(2) Send a check to Biblical Ministries Worldwide, 1595 Herrington Rd, Lawrenceville, GA 30043
(3) With your coffee purchase at http://www.coffeehelpingmissions.com