Robert and Bethany Zink (Argentina)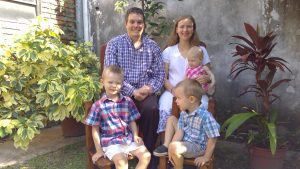 NEW UPDATE February 2020 …….
ON THE MISSION FRONT
****Lord willing, we will be reunited with Bob and Karen as they return from the United States in the upcoming days. We are looking forward to this return. Without them, January has been quite a busy month
for us. Part of that was the unexpected breakdown of our primary computer which required Robert to travel to Buenos Aires twice; first to drop it off and again just last week to pick it up. Praise the Lord that it was
able to be fixed, just in time for him to focus on some major projects.
*****Summer here usually means life moves much more slowly because of the heat. We have had a good month of ministry. First, we have spent much time with Maria Luisa, enjoying our time growing together in God's truth. This has been an encouragement to us. Bethany (and sometimes all of us) has been meeting with Maria Luisa's aunt for a time of devotion and singing. All of this while we continue meeting with our regular contacts praying fervently that the Lord will soften these hearts and open their minds to the significance of God's truth.
*****Some of the most encouraging ministry opportunities came early on in the month with contacts that Robert has been making through his writers' group. We spent one afternoon with one family celebrating the birthday of the oldest child – and our kids were excited to go swimming in the pool. *****We've had some good gospel-oriented conversations and pray for the Lord's work there. A few months ago, Robert met another man and we had him over for dinner in January, which turned into a great biblical discussion. Between all of us (including Maria Luisa) the gospel was clearly preached. Those contacts continue and so please pray with us.
*****We ended the month in Resistencia spending time with Pepe and Flora. It is our hope that they were encouraged by this visit. We know that we were. But their weariness is showing (not just because of ministry
but also because of age and health). We are thankful for them and ask that you join us in prayer about their future and the future of the church.
On The Home Front
*****In a manner of speaking, January was Thomas' month to be the
center of attention. First, we celebrated his fifth birthday! So much has
happened in that five years. He continued grabbing our focus by falling
into a pile of ants last week while playing soccer with Dante. Those ants
bit him severely and he had an allergic reaction. A short doctor visit and
one shot later though and he was fine – Praise the Lord for the clinic
just around the corner from our house!
*****As a family, we decided to spend some time together by getting
away to Iguazu Falls for three days. We've anticipated visiting these falls
for 8 years and were joyful to finally see them. First, this was by far one
of the best vacations we have had because we had no responsibilities
and could focus on one another. Second, never have we seen something
so spectacular. It was a clear demonstration of God's power, beauty, and
magnitude. We would recommend this for anyone who has the opportunity . . . and if possible visit Niagara Falls first, otherwise you
risk disappointment at how miniscule the U.S.' greatest falls are.
PRAISES AND PRAYERS
*** Praise for the recent opportunities of sharing the gospel.
*** Praise for God's faithfulness in our lives and ministry
*** Pray for the spiritual health of our family and the salvation of our kids
*** Pray for Elijah and Thomas to adjust well as they enroll in a new year of soccer, and for gospel opportunities with the other families.
*** Pray for some friends for our children, and for their Spanish to improve.
*** Pray for faithful missionaries to come preach the gospel in Corrientes.
*** Pray for God to soften hearts and bring many to salvation.
*** Pray for boldness and wisdom for us in sharing the gospel and building relationships.
*** Pray for patience and wisdom for us as we home-school our children,
and pray that they would have obedient hearts and a desire to learn
And lastly….Thank you for joining us on our journey here and your prayers for us and for God's work in Argentina.
As we endeavor to see people come to Christ and labor for God's glory, we are thankful that you have joined us in the vital ministry of prayer. Thank you so much for being with us in this way.
Robert & Bethany Zink  Biblical Ministries Worldwide
Soli Deo Gloria, Robert, Bethany and kids.
By Mail: Evaristo Lopez 1050 3450 Goya, Corrientes Argentina (letters/cards only)
By Phone or Whatsapp: 011.54.9.3777.505055 (Robert) 011.54.9.3777.505072 (Bethany)
By email: robertandbethanyzink@gmail.com
Our Blog: http://www.ministeringabroad.blogspot.com
To Receive Regular Prayer Updates: Send us an email to be included on the list
To Financially Support Us: (1) Type in our names online at
http://www.biblicalministries.org/support/give
(2) Send a check to Biblical Ministries Worldwide, 1595 Herrington Rd, Lawrenceville, GA 30043
(3) With your coffee purchase at http://www.coffeehelpingmissions.com