Robert and Bethany Zink (Argentina)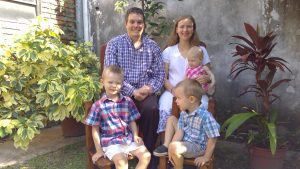 ON THE MINISTRY FRONT…..  AUGUST2018
Last night we were commenting about how silent our little town has appeared recently. It's true. With the intense cold and ongoing clouds, few people are going out unless there is an absolute necessity.
We've seen this at Elijah's soccer practice, as many days there have been three or four kids attending and often the parents haven't been sticking around to watch. The advantage of that is that with fewer people out, we have more opportunity to talk with people and we've been able to develop some deeper conversations. This has been an encouragement to us because it has opened some doors to invite people over to our house (something that has yet to be accepted due to sickness). We are excited for these opportunities and ask for your prayer in developing those relationships.
We continue to maintain relationships with several individuals/families on an ongoing basis. There is one family who has been kind and generous that we talk to every week and get together with periodically. We've asked for prayers for more consistent contact and a softening of hearts because they are all antagonistic towards God. Thus far, neither of those has happened, but we can have conversations with them not had with others which we can easily direct towards God.
Prayer for Dante and Aurora is warranted as we so desire to see their salvation. Last week our entire family loaded up into the car and visited them both . . . this is not something we often do because we don't want to overwhelm people with five people (3 under 5 yrs. old) just showing up at one's house. Yet, Aurora especially seemed to enjoy the visit. Since the passing of Tito, we suspect she is very lonely as she was encouraging us to come whenever we can, so there is an opportunity there to continue.
Despite the cold, events are happening. While the United States celebrated independence on July 4th, Argentina celebrated on the 9th.  Last month we shared that the issue of abortion is making its way through the legislation process, which has ignited many fierce debates and protests.  While we try not to engage in politics, this is an opportunity to point to God when conversation permits.
We continue this month with teaching in Resistencia in order to develop leaders at that church. Robert will give teach lessons two and three in a hermeneutics class this upcoming weekend, so please pray for that. Last month, 12 people attended. Please pray that this weekend will be well-attended and understood, and that it will motivate people to develop a deeper relationship with the Lord. As always, thank you for being involved with us.
Praise: Open Opportunities
 Praise: Leadership Development in Resistencia
 Prayer: 5 Faithful Contacts
 Prayer: Open Hearts
 Prayer: Teaching & Preparation
 Prayer: Robert & Elijah's Upcoming Trip
 Prayer: For Our Spiritual Vitality
 Thank you for joining us in this and pray for God's work here in Argentina.
Soli Deo Gloria,
Prayer Team: get updated prayer requests by emailing us at:
robertandbethanyzink@gmail.com
To give financially visit biblicalministries.org ….or send a gift check directly to:
Biblical Ministries Worldwide, 1595 Herrington Road, Lawrenceville, GA 30043
Be sure to include your name, check number, and "Designated to the ministry of Robert & Bethany Zink"on a separate sheet of paper.
Robert & Bethany Zink