Robert and Bethany Zink (Argentina)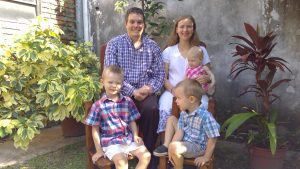 NEW UPDATE AUGUST 2019 …….
Greetings Prayer Team!
Your constant engagement in prayer on our behalf is humbling. Several weeks ago, we come up with an idea to change how we do our prayer requests by giving something that could be prayed for on a daily basis for us based on what is going on that day and taking place both personally and in ministry. We pray that this will be helpful in giving you an update of what is going on while giving you something to specifically pray about. Therefore, here is the prayer list:
Once again, thank you for praying!
Thank you for joining us in this and pray for God's work here in Argentina. 
Soli Deo Gloria,
Prayer Team: get updated prayer requests by emailing us at:
Our Email: robertandbethanyzink@gmail.com
Our Blog: http://www.ministeringabroad.blogspot.com
By Mail: Evaristo Lopez 1050, 3450 Goya, Corrientes Argentina (letters/cards only)
By Phone or Whatsapp: 011.54.9.3777.505055 (Robert) 011.54.9.3777.505072 (Bethany)
To Receive Regular Prayer Updates: Send us an email to be included on the list: robertandbethanyzink@gmail.com
To Financially Support Us:
(1) Type in our names online at http://www.biblicalministries.org/support/give
(2) Send a check to Biblical Ministries Worldwide, 1595 Herrington Rd, Lawrenceville, GA 30043
(3) With your coffee purchase at http://www.coffeehelpingmissions.com
As always, thank you for praying!
As we endeavor to see people come to Christ and labor for God's glory, we are thankful that you have joined us in the vital ministry of prayer. Thank you so much for being with us in this way.
Robert & Bethany Zink  Biblical Ministries Worldwide