Robert and Bethany Zink (Argentina)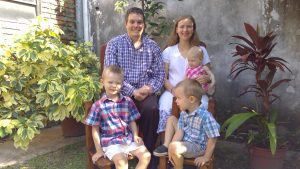 NEW UPDATE MAY 2019 …….
 On the Ministry Front
One of my favorite Psalms is 121: "I lift up my eyes to the hills. From where does my help come? My help comes from the Lord, who made heaven and earth." In Goya, we must lift our eyes to the heavens, for there are no hills. I am amazed how many hours one can drive in North-Eastern Argentina without seeing a single hill. This past month we spent most of our time in our home town of Yakima and were reminded of the beauty of the mountains and hills, as well as the beauty of Christian fellowship. We were able to reconnect with many friends and family, and are thankful for the meaningful conversations and fellowship that took place. It has been a blessing to be able to participate in some studies and simply be refreshed and ministered to. Over the course of the month we have been in several churches, including our home church's missions conference in which Bethany shared about ministry at several functions and Robert taught a message about ministering to missionaries and preached in the main service. We were also blessed by time in Everett with supporters at Valley View Bible Church and some great fellowship with Pastor Mike and his wife Dawn. We ended the month how we started, in Yakima, this time attending West Side Church where we encouraged by their recent emphases in missions and conversations about future involvement with one another. Amidst the meetings, fellowship dinners, and coffee times it has been refreshing to minister to others and be ministered to by others.
On the Home Front
This month yielded plenty of opportunities for the kids to spend time with family and friends. They are certainly enjoying the time meeting and playing with their cousins. They have also had lots of new opportunities that they have not experienced before. Helping them to remember their Argentine culture, we took them and Grandpa John to their first professional soccer game to watch the Seattle Sounders. They also got to experience the joy of feeding the ducks at a local park. Trying to ensure her spot in the limelight, Naomi continues to thrill crowds with her various antics, most recently playing 'dress up' by utilizing various pieces of clothes as hats. The kids continue to do well amidst the constant flux of our current lives, for which we are thankful. All of us finally received colds this month, but thankfully it was during a calm week.
 PRAYER REQUESTS:
+ Pray for a new contact Bob and Karen have made; a young man with two daughters. He is interested in reading scripture.
+Pray for the Lord to raise up missionaries for the province of Corrientes.
+ Pray for pastors to partner with us for the Bella Vista Project (see video)
+ Pray for physical and spiritual health for our family
+ Pray for our coworkers Bob and Karen
+ Praise for the Lord's faithfulness and sustenance
+ Praise for the time with our home church and family
Thank you for joining us in this and pray for God's work here in Argentina. 
Soli Deo Gloria,
Prayer Team: get updated prayer requests by emailing us at:
Our Email: robertandbethanyzink@gmail.com
Our Blog: http://www.ministeringabroad.blogspot.com
By Mail: Evaristo Lopez 1050, 3450 Goya, Corrientes Argentina (letters/cards only)
By Phone or Whatsapp: 011.54.9.3777.505055 (Robert) 011.54.9.3777.505072 (Bethany)
To Receive Regular Prayer Updates: Send us an email to be included on the list
To Financially Support Us: (1) Type in our names online at http://www.biblicalministries.org/support/give  (2) Send a check to Biblical Ministries Worldwide, 1595 Herrington Rd, Lawrenceville, GA 30043 (3) With your coffee purchase at http://www.coffeehelpingmissions.com
As always, thank you for praying!
As we endeavor to see people come to Christ and labor for God's glory, we are thankful that you have joined us in the vital ministry of prayer. Thank you so much for being with us in this way.
Robert & Bethany Zink  Biblical Ministries Worldwide