Robert and Bethany Zink (Argentina)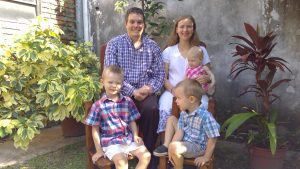 NEW UPDATE MARCH14, 2019 …….
Greetings Prayer Team!
It has been quite some time since we have taken the time to send out a more intentional prayer force update. The last few weeks have been full of much travel and teaching, but they have been edifying and we pray encouraging to others as much as the time was to us. We now look forward to the next couple of weeks and ask for prayer in the following ways:
1) Travel & Teaching: These next two weeks we will be on the West Coast (Seattle, Astoria, Portland) for some more teaching, preaching, and visits. Please pray that those times are well-received, specifically a workshop Robert will be doing next week for pastors and leaders about how to minister to your missionaries. Also, pray for the extended time we will have with individuals that the time is glorifying to God as we pour into the lives of one another.
2) Ministry in Argentina: Please continue to pray for Bob & Karen as they minister in Argentina. Please pray specifically for the motivation of one of our contacts; he has recently graduated and was supposed to be enrolling in a program of continued study, but Robert talked to him yesterday and he has not done anything for that although classes began several weeks ago.
3) Our Family: Please pray for our family, first that we would guard time together, second that we are able to establish time for Elijah's schooling in the midst of the chaos, and finally for our continued adjustment to the culture here in the States.
Thank you for the ongoing prayers for our family and ministry.
FEBRUARY 2019
We had a five-month+ visit to the United States scheduled – a trip that has been a year in the planning. For those not aware, some specific circumstances have caused us to move that trip up by two weeks, which means we leave on Monday. But today, we got packed – it's nice to have that major chore done and I am pleased with the outcome: 3 bags for six-months for a family of five is doing pretty good.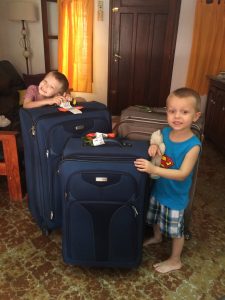 ON THE MINISTRY FRONT…..  JAN/FEB 2019
Greetings Friends & Family,
Attached is our most recent update from this last month. This month begins our furlough, something that has been a year in planning. Due to a death in the family, we have made a slight revision and will be arriving in the United States sooner than anticipated. Although we are only leaving 13 days earlier, it means that our journey begins a week from Monday! So there is much to do in that time frame simply to prepare our house, say goodbyes to our contacts, and coordinate with Bob & Karen (who are graciously taking everything on while we are gone, from ministry to paying our bills and watching our house). So your prayers are appreciated and we look forward to seeing people soon!
On the Ministry Front
January has been a busy month; we continue
Sunday meetings with Bob and Karen and
M.L., the believer we met in December;
Saturdays we meet in the park, weather
permitting; Fridays we have a new Biblestudy
with a neighbor couple of M.L.'s, Thursdays
we continue meeting with A.G. and D.G. We
also have several others we continue to contact
periodically. In addition, we have been
prepping for our first furlough. It is hard to
believe nearly three years have gone by since
we first arrived! Our plan was to leave Goya on
the 25th of February. As of yesterday, that has
changed. Bethany's grandmother passed away
on January 31st. One of the costs of being a
missionary is the separation from family and
the expectation that many major events will be
missed. We never expected to travel back for
grandparent's funerals, but God orchestrated
events to enable us to do that this time. Robert
talked with the airline, and while they do not
usually change international economy plane
tickets, they not only agreed to change them
but waived the change fees due to the
circumstances. While it means rushing to say
goodbyes and preparing to leave in 10 days'
time, we are grateful for the opportunity not
only to attend the funeral, but also to spend
time with extended family.
Please be in prayer for us as we prepare to
leave and as we travel; our travel schedule is
quite busy during our six months on U.S. soil.
We will share a monthly schedule in our
newsletters, please contact us if you would like
to get together when we are in your area!
The steadfast love of the
Lord never ceases; his
mercies never come to an end;
they are new every morning;
great is your faithfulness. –
Lamentations 3:22-23closeERROR: The IP key is no longer supported. Please use your access key, the testing key 'TEST'closeERROR: The IP key is no longer supported. Please use your access key, the testing key 'TEST'
On the Home Front
This month held several interesting events: nearly two weeks of
steady rain, a forty-hour power outage, and Thomas' fourth birthday.
The rain caused some flooding in the area, but nothing close to our
house, thankfully. The 'water bugs' came out; nearly the size of the
palm of a hand, they are quite impressive looking. Elijah enjoyed
playing with them. Naomi and the boys loved 'mopping' the rain off
the patio. Thomas turned four: he wanted a piano cake for his
birthday. One of his favorite toys this past year was a cardboard
cutout of a guitar that someone made, so we were excited to find a
"real" toy guitar for him. He loves singing "How Great Thou Art" as he
strums the fishing-line strings. He seems to have quite an interest in
music, which we hope to cultivate as he grows. Elijah and Thomas
met a friend who often hangs out at the park. They play soccer and
laugh at only-they-know-what. It is encouraging to see them grow in
their ability to interact with other children, even though they still
don't speak a lot of Spanish. Elijah also enjoyed an afternoon of
swimming at one of his soccer companion's house. Elijah continues in
his kindergarten studies, and Thomas and even Naomi are also
learning about their ABC's. Naomi loves singing with Thomas. At 23
months, she speaks in complete sentences and can sing most of "Jesus
Loves Me." They all enjoyed helping Daddy bake cheesecakes for Aunt
Karen's birthday, which meant they got to lick the lemon rinds after
the juice was squeezed!
*Praise for a Bible
study with a new
couple
 Praise for meeting a
believer in Goya
 Praise for the
opportunities to
share our ministry
on furlough
 Pray for
opportunities as we
say goodbye to
contacts this month
 Pray for our family
to handle the stress
of prepping and
traveling this month
 Pray for our coworkers
Bob and
Karen as they
continue ministry in
our absence
 Pray for "furlough
mercies" with the
kids: traveling and
adjusting to new
circumstances
Thank you for joining us in this and pray for God's work here in Argentina.
Soli Deo Gloria,
Prayer Team: get updated prayer requests by emailing us at:
robertandbethanyzink@gmail.com
To give financially visit biblicalministries.org ….or send a gift check directly to:
Biblical Ministries Worldwide, 1595 Herrington Road, Lawrenceville, GA 30043
Be sure to include your name, check number, and "Designated to the ministry of Robert & Bethany Zink"on a separate sheet of paper.
Robert & Bethany Zink