Robert and Bethany Zink (Argentina)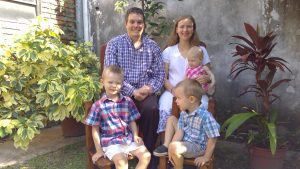 NEW UPDATE NOVEMBER 2019 …….
On the Ministry Front
**The month of October contained many events, including where Robert preached at churches in a couple of cities. We were also able to spend some time visiting with and encouraging the pastor and his family.
**Towards the end of the month our area director and his wife spent a few
days with us, then we had our annual BMW conference with the
missionaries from Argentina, Ecuador and Uruguay. It was a very
encouraging and special time of fellowship. We are truly blessed to have a
mission family that is so supportive, encouraging, and faithful to the Lord.
**We are truly excited to see more opportunities opening up for us to get to
know people and to share the gospel.
**Argentina is in economic crisis right now; the peso has been devaluing rapidly (for example, when we arrived three and a half year ago, milk was 14 pesos a liter. It is now 50 pesos a liter. The peso/dollar was 14/1, now it is 60/1). We are relatively unaffected, as the dollar amount for basic items does not vary much, but the Argentine, who's wage does not increase at the same rate, suffers.
**There have also been several manufacturing companies closing, leaving
many without work. Here in Goya, a large international plant with well paying jobs closed, leaving 300 people without work.
**One of those employees is a dad of Elijah's soccer teammate. Bethany has had some opportunity of reaching out to the mother; please pray for them, that instead of marching and praying to the saints and virgins, they will turn to Christ their Savior.
**We also plan to start routinely visiting patients in the local public hospital
to pray and read with those who are interested. Please pray for the Lord to
move in hearts as His gospel is preached.
On the Home Front
**The kids continue to grow and change. Their favorite current things to do are play church, sing in both Spanish and English, build blocks (especially Elijah) and color.
**At conference they attended a children class, which was led by 3 missionary kids (or "preachers" as the kids started calling them!). Last conference, Thomas and Naomi were too shy to attend; it was great to see them participating with enthusiasm this year.
**All week we have been listening to them sing "Todos Deben Conocer Quien es Jesus" ("Everyone should know who Jesus is). Thomas won the heart of the cashier at our local supermarket by singing "Cuan Grande es El" ("How Great Thou Art") as we were checking out.
We also learned a new fun fact this month: toads can be as big as Daddy's foot!!! YIKES!
Thank you for joining us on our journey here and pray for God's work in Argentina. 
Soli Deo Gloria, Robert, Bethany and kids.
By Mail: Evaristo Lopez 1050 3450 Goya, Corrientes Argentina (letters/cards only)
By Phone or Whatsapp: 011.54.9.3777.505055 (Robert) 011.54.9.3777.505072 (Bethany)
By email: robertandbethanyzink@gmail.com
Our Blog: http://www.ministeringabroad.blogspot.com
To Receive Regular Prayer Updates: Send us an email to be included on the list
To Financially Support Us: (1) Type in our names online at
http://www.biblicalministries.org/support/give
(2) Send a check to Biblical Ministries Worldwide, 1595 Herrington Rd, Lawrenceville, GA 30043
(3) With your coffee purchase at http://www.coffeehelpingmissions.com
As always, thank you for praying for us!
As we endeavor to see people come to Christ and labor for God's glory, we are thankful that you have joined us in the vital ministry of prayer. Thank you so much for being with us in this way.
Robert & Bethany Zink  Biblical Ministries Worldwide