Robert and Bethany Zink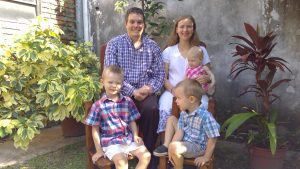 After serving in Argentina for a number of years, God has called us on to other ministry. Therefore, we made an application with an organization Northwest Independent Church Extension (N.I.C.E.) as associates. In a sentence, they plant churches and assist churches. For us, much of our spiritual support has come from those associated with them, and our desire is to continue that relationship more formally as we rely on their support, appreciate their wisdom, and desire their accountability. With that being said,  we have officially accepted the offer to Pastor Coal Creek Church in Longview, Washington.
We will continue being associated with BMW.  And so, we met with leadership and determined that we will continue ministering through them for our Lord.
Thank you for joining us on our journey to and from Argentina, for partnering with us as we pray the seeds we planted will blossom and grow.  Keep the Argentine people in your prayers. As we endeavor to see and bring people to Christ and labor for God's glory, we are thankful that you have joined us in the vital ministry of prayer. Thank you so much for being with us in this way.
Robert & Bethany Zink  Biblical Ministries Worldwide
Soli Deo Gloria, Robert, Bethany and kids.
By email: robertandbethanyzink@gmail.com
Our Blog: http://www.ministeringabroad.blogspot.com