Robert and Bethany Zink (Argentina)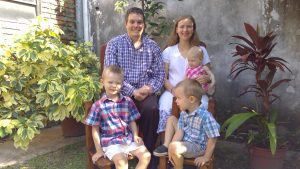 NEWS UPDATE JULY 2020 …….
On the Ministry Front:
This was supposed to be quite the week for our household – grandparents were scheduled to visit Argentina while Robert was scheduled to be traveling with his stepfather in order to speak at a conference in the United States. Instead, we attend that conference virtually, thankful to be
worshiping with many friends and fellow families in ministry.
Here in Argentina, quarantine was officially extended until July 17th. While other cities have gone back to full lock down, here, in our town, we are able to enjoy some freedoms. Earlier this month, we had our first contact with others. We've been meeting almost weekly for Bible study since early in the
month, content to have fellowship with someone once again.
Bethany has started meeting again with Maria Luisa (our fellow believer here in Goya) and her neighbor for their women's study. She has also started a study on Colossians on Whatsapp for a few women, including the pastor's wife in  the church that Bob and Karen planted. That area has had a larger outbreak of the virus and has been heavily locked down since March.
Buenos Aires has returned to strict lock down, with a few exceptions only allowing non-essential workers to leave their home for food and
medicine. Meanwhile, the economic crisis that already existed before the pandemic continues to worsen as the government has defaulted on their loans. Fear still grips people here. Many are still hesitant to get together and there is a lot of animosity towards outsiders and especially people
coming into town from infected areas. Since we already draw attention, we've been cautious, trying to respect people's desires and meeting very minimally.  It is our desire to see more happen in July.
In the meantime, we rejoice at God's ongoing grace. Our prayer is that God will work to soften hearts during these difficult times, and people will start turning to Him. Honestly, one of our ongoing battles is trying to capture what life is like here in Argentina currently, without sounding overly dramatic. But quarantine, response to the virus, and opinions are very different here than what others are experiencing. And so, we've desired to share with you what life is like in a foreign culture during this time.
Below are the words to the first and last verse of "He Will Hold Me Fast."
June, 2020 Ed. 10, Issue 6
When I fear my faith will fail, Christ will hold me fast
When the tempter would prevail, He will hold me fast
I could never keep my hold, Through life's fearful path
For my love is often cold, He must hold me fast
For my life He bled and died, Christ will hold me fast
Justice has been satisfied, He will hold me fast
Raised with Him to endless life, He will hold me fast
Till our faith is turned to sight, When he comes at last
On the Home Front
Finally, the children have been able to leave the house to play in
one of three designated areas in our city. They are not permitted
on the toys, but at least are able to get outside and expend some of
their energy. We could hope that time spent in the house would
help keep them from growing up so fast, but our experiment of
hiding our children at home has shown that to be untrue. They
keep growing, each one developing a unique personality that
makes life very interesting (if you follow us on Facebook, you've
seen many of those stories).
We did make "Christmas cookies"
this month, as it is far too hot to make them at Christmas time!
Thomas and Elijah also discovered that it is fun to decorate
Naomi's hair with all of her clips. She willingly submits to this,
and even seems to enjoy it.
A unique event in Robert's life this month was the ability to write
about a passion of his, fountain pens. A well-known fountain pen
blogger and influencer in the community asked Robert to write
about fountain pens in Argentina (the article is linked below). It
was something fun for him.
Robert's writings
Robert's Blog English
Robert's Blog Spanish
Fountain Pens: An Argentina Perspective
Family: The Future of Evangelism
The Mission: Lessons from Hermann Witsius
Urgent: The Need for the Gospel in 2020
Bella Vista: The Beautiful View of God's Work
PRAYERS
 Praise God's faithfulness and present help in trouble (Ps 46closeERROR: The IP key is no longer supported. Please use your access key, the testing key 'TEST'closeERROR: The IP key is no longer supported. Please use your access key, the testing key 'TEST').
 Praise that we were able to resume a few of our Bible studies and fellowship this month.
 Praise for God's loving goodness and kindness, and for His faithful provision.
 Pray for special family growth during this time of isolation.
 Pray for wisdom and integrity for Argentina's leaders during the COVID19 and economic crisis.
 Pray for continued trust and peace in the Lord through uncertain circumstances.
 Pray for fellow co-laborers in the Gospel here, especially those in Buenos
Aires and Chaco as they are under very strict lock down amidst rising COVID cases.
 Pray for a desire for the people here to know God.
 Pray for the world-wide church to have boldness and courage to live for Christ and proclaim the gospel of salvation.
And lastly….Thank you for joining us on our journey here and your prayers for us and for God's work in Argentina.
As we endeavor to see people come to Christ and labor for God's glory, we are thankful that you have joined us in the vital ministry of prayer. Thank you so much for being with us in this way.
Robert & Bethany Zink  Biblical Ministries Worldwide
Soli Deo Gloria, Robert, Bethany and kids.
By Mail: Evaristo Lopez 1050 3450 Goya, Corrientes Argentina (letters/cards only)
By Phone or Whatsapp: 011.54.9.3777.505055 (Robert) 011.54.9.3777.505072 (Bethany)
By email: robertandbethanyzink@gmail.com
Our Blog: http://www.ministeringabroad.blogspot.com
To Receive Regular Prayer Updates: Send us an email to be included on the list
To Financially Support Us: (1) Type in our names online at
http://www.biblicalministries.org/support/give
(2) Send a check to Biblical Ministries Worldwide, 1595 Herrington Rd, Lawrenceville, GA 30043
(3) With your coffee purchase at http://www.coffeehelpingmissions.com