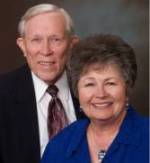 Roy and Elvia – former Director of Northwest Independent Church Extension.
OUR ANNUAL REVIEW – A LOOK AT 2021
As we look back at 2021 our hearts overflow with much praise for the Lord's goodness and grace. It was also a year of challenge and change, due to COVID and personal limitations. We have begun to cut back on traveling long distances, and unnecessary night driving. We were privileged to minister the Word 31 times at Wishkah Valley Community Church, and 9 times at other churches, travelling 14,330 miles to do so.
God has privileged us to serve with NICE for the past 54 years! Your prayers have sustained us; your giving has enabled us to "continue on." As we look in the "rear-view mirror" focusing on 2021, we see God's hand of love and care in so many ways:
JANUARY … Ministry at Wishkah Valley; Roy serving with the NICE Board of Directors at their Annual Meeting; both of us had vision appointments.

FEBRUARY Ministry at Wishkah Valley; got our COVID vaccinations; had our annual family Fantasy Football party by Zoom! Not the same!

MARCH …… Ministry at Wishkah Valley; Roy attended the IFCA Conference at Pine Grove; Elvia spent 5
days in the hospital with Pulmonary Embolism. The family celebrated Roy's 87th birthday by
Zoom!

APRIL ……… Ministry at Wishkah Valley; the series of messages from the Psalms has been a
rich blessing; Elvia continues to recover well.

MAY …………Ministry at Wishkah Valley; also ministry at Forest Glade for Mother's Day.

JUNE ………. Ministry each Sunday at Wishkah Valley; we began weekly Bible Study again at Laurel Oaks – in the park through the summer. What a privilege this is to teach the Word! We celebrated our 65th Wedding Anniversary.

JULY ……….. Ministry continues at Wishkah Valley; Roy met with the NICE Board.

AUGUST ….. Ministry at Wishkah Valley, except for one week-end at Lamont Church.

SEPTEMBER Celebrated Elvia's birthday; enjoyed our Annual Life, Marriage and Ministry review at Pacific Beach; continued ministry at Wishkah; began meeting in the Clubhouse again at Laurel Oaks Bible Study each Thursday.

OCTOBER … Ministry at Wishkah and Hobart; attended the IFCA Conference in Bremerton.

NOVEMBER Ministry at Wishkah and Forest Glade; Monica's husband Vern called to glory! Two Thanksgiving Dinners – one with Monica and one with Allens!

DECEMBER Ministry at Wishkah each week; ministry at Manchester, one of the founding churches for NICE! We enjoyed being with each of our families for a Christmas celebration! The year ended by our being snowed in! We praise God that He is OUR PORTION each day!

We THANK THE LORD and THANK YOU for your love and prayers for us.

It's our desire this New Year to "continue in the strength of the Lord God." (Ps. 71:16)

With much gratitude,

Roy and Elvia