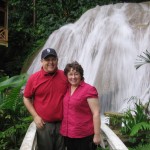 Bob and Judi Allen – Western Washington Field Director.
A ministry of Northwest Independent Church Extension
UPDATE NOVEMBER 2021
This November, as Bob and I look back on the past year, we can't help but praise the Lord for His grace and goodness toward us! Yes, there have been challenges, but in all ways, God has proven His great faithfulness! Psalm 34 is a favorite for a number of reasons: My life verse is Psalm 34:1, and my parent's life verse, as a couple, is Psalm 34:3. But also, as I read through thisPsalm, I find so much that is relevant to today.
1 I will bless the Lord at all times; His praise shall continually be in my mouth.
2 My soul makes its boast in the Lord; let the humble hear and be glad.
At all times, we praise the Lord and boast of Him. God has blessed us with a tight-knit family, relatively close by. We are so thankful for our parents, siblings, kids, their spouses and grandkids.
3 Oh, magnify the Lord with me, and let us exalt His name together!
To magnify is to make large, to bring into focus. Join us as we thank Him for His great provision for Northwest Independent Church Extension. Since its beginning in 1958, God has worked through its Directors and Missionaries to further His kingdom. We're humbled to be a part of that in our role as Western Washington Field Director and Office Manager. Serving alongside Rob and Ruth Morris at Hobart Community Church has been wonderful! We're honored to call these two faithful servants our friends.
4 I sought the Lord, and he answered me and delivered me from all my fears.
6 This poor man cried, and the Lord heard him and saved him out of all his troubles.
7 The angel of the Lord encamps around those who fear him, and delivers them.
8 Oh, taste and see that the Lord is good! Blessed is the man who takes refuge in Him!
10 The young lions suffer want and hunger; but those who seek the Lord lack no good thing.
These past few years have presented challenges, definitely! There has been reason to fear. Bob was laid off work at his secular job in March, but God provided for our needs. Covid touched our extended family, but God was gracious to bring healing. We have had differences of opinion within our family regarding vaccines and mandates, but God has given grace to make love and unity the top priority. We have "tasted" of God's great goodness. Sometimes that taste seemed bitter or unappealing at first bite, but always has proven good. We are doing fine health-wise, but even the health challenges we've faced are proof of His goodness. God has given us glimpses of how He used diabetes, kidney failure, heart bypass and cancer to actually protect us and mold us to be more Christ-like.
I will let you finish reading the Psalm on your own! But we do thank the Lord for you … for your interest in us, in our family, in our ministry. Out of  His goodness, God gave us you!
"O taste and see that the Lord is good!"
Judi, for both of us